My girlfriend never fails to surprise me, she is a little pocket rocket and ever since I first met her I was weak at the knees for everything she would do and say. We have been together now for around 3 years and recently something amazing happened just a few months into our relationship, from the title of my post you can guess what it is but never in my wildest dreams did I imagine that I would be with a woman who was so sexy and adventurous in the bedroom. I am so excited to finally share my story here and to share with you all my very naughty and slutty girlfriend's antics.
You would have no idea how much of a freak my girlfriend is
If you looked at my girl, she's so cute and sexy, she's barely 5 foot and when I first met her I had no idea she was going to be so freaky. She was really nice but quite proper in her attitude, I thought that would mean she was pretty basic in bed (not that I would have complained), so when we first hooked up I was pretty shocked at how kinky she was.
Our first night together and she was begging me to fuck her harder, she rode me on top and grabbed my throat, she wouldn't let me cum, she talked so dirty to me, just freaky stuff like that.
After the first time that we fucked I was ready to marry her. It wasn't long after this when she told me she was actually Bisexual and I was one of the few men she had been intimate with. Knowing she was bi was her trusting me and I respected and fell for her even harder and luckily we started dating and things grew and blossomed from there.
I Asked If She Wanted To Be With A Girl Again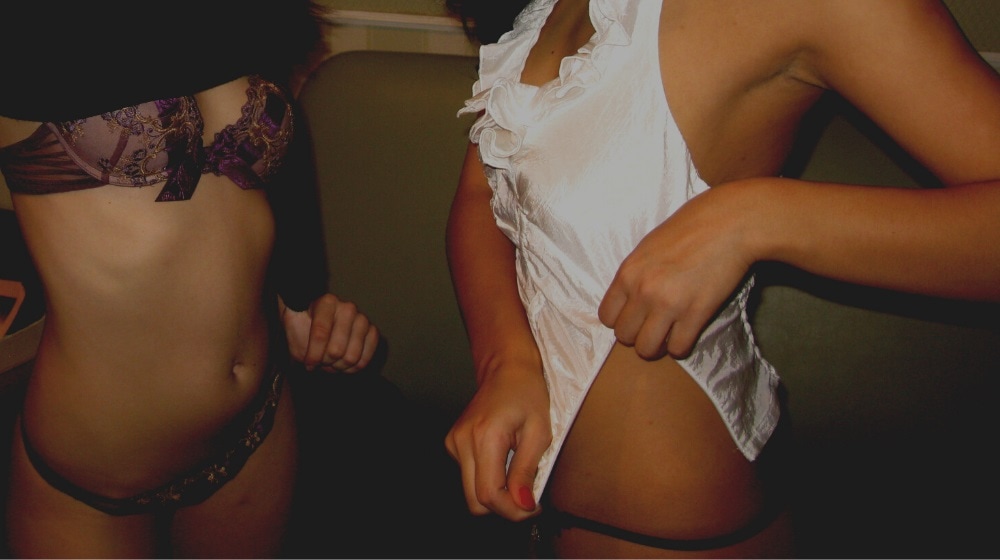 Our sex life was great but I knew she was still yearning for a part of her old self. I wasn't trying to be one of those guys who tries to have a threesome with his girl, instead, I asked if she wanted to be with a girl again and told her as long as she's honest and no guys involved she could hook up with a girl whenever she liked as I knew it was a part of her that I couldn't satisfy.
She loved the idea and she told me how grateful she was to have found someone like me, however, she wanted me to be part of the 'lesbian experience'. She told me she wanted to share special intimate moments with me and when she asked if I wanted to be a part of her girl-on-girl evening I was more eager than I had been for anything in my entire life, this was going to be my first ever threesome.
At this point in our lives, we were only a few months into our relationship, the sex was the best I had ever had, we also got along and got each other and each other's needs both in and outside the bedroom. We were perfect for one another and so I trusted her when it came to having sex with a woman and with an invite like that, I didn't think things could get any better until they did.
Did She Have Anyone In Mind?
I asked her if she had anyone who wanted to join us in mind and she did. She had a booty call, a girl she's never been in a relationship with but they have fucked on and off over the years. She told me they always have great sex and my cock twitched at the thought.
My girlfriend showed me a picture of her and the best way to describe this woman was an extremely hot tattooist, with long dark hair, dark eyes with vibrant tattoos covering her arms. I didn't make a big deal about her, but my girl was happy and so was her friend, so we decided to all meet and see where the night took us.
We All Went On A Night Out Together
We met with her friend, had dinner, and ended up in a nightclub and it wasn't long before we were all over each other. It was kind of strange, they would dance together, kiss, and then both kiss me. It felt pretty natural and was really hot and something I had never experienced before.
We were all really horny, excited and knew what was on the horizon if we all wanted it. I was enthralled by these two women and I felt like all eyes were on us in the club, which surprisingly felt so good.
I also found out after all of this that my girlfriend got really turned on seeing me kiss another girl.
We Went Back To Our Place
As we all kissed and danced in the club they both suddenly gave me the look (The classic "shall we get out of here?" look). So we hailed a taxi and headed back to our place.
Once we were at our apartment things went from zero to one hundred real quick, we were all kissing, touching, and playing with each other's bodies. I was nervous yet extremely excited and obviously as hard as a rock in my pants.
I wanted to watch my girlfriend with another woman and so I moved away, I watched this hot tattooed woman lay my girlfriend down and then start eating her perfect pussy. The moans and the begging were all electrifying all while I just stroked my cock and enjoyed such a privileged position to be in.
I've Never Seen Anything Like This Before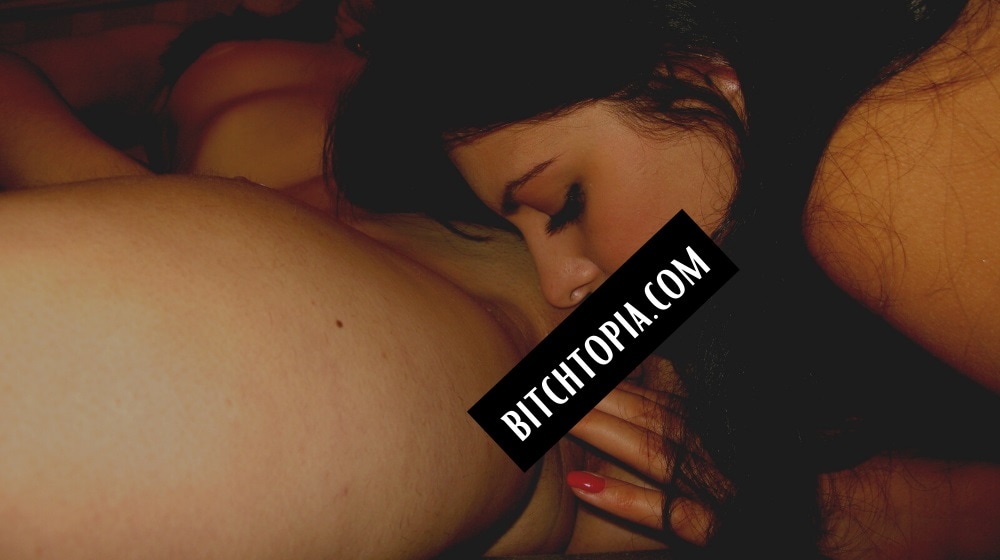 This woman was eating my girl's pussy, fingering her and making her cum hard. I didn't know she could squirt, but this girl had my girl squirting and I had to actually close my mouth, I was completely bowled over by their sex. My girlfriend was having the time of her life and then it got even better than I had ever imagined, her tattooed friend started fisting my petite girlfriend, something I had never done or seen before, it was so sexy.
I had to stop stroking my cock, because I was going to cum, I could just see her hand going inside my girlfriend and my girl moaning, screaming, and cumming again and again. Her swollen, wet pussy looked so hot. It got to the point where my girlfriend was literally stuck in an orgasm loop, the sheets were soaked, their skin was covered in sweat beads and they were both so lost in the moment, no wonder my girlfriend wanted this female back in her life!
I Never Knew My Girlfriend Could Take A Fist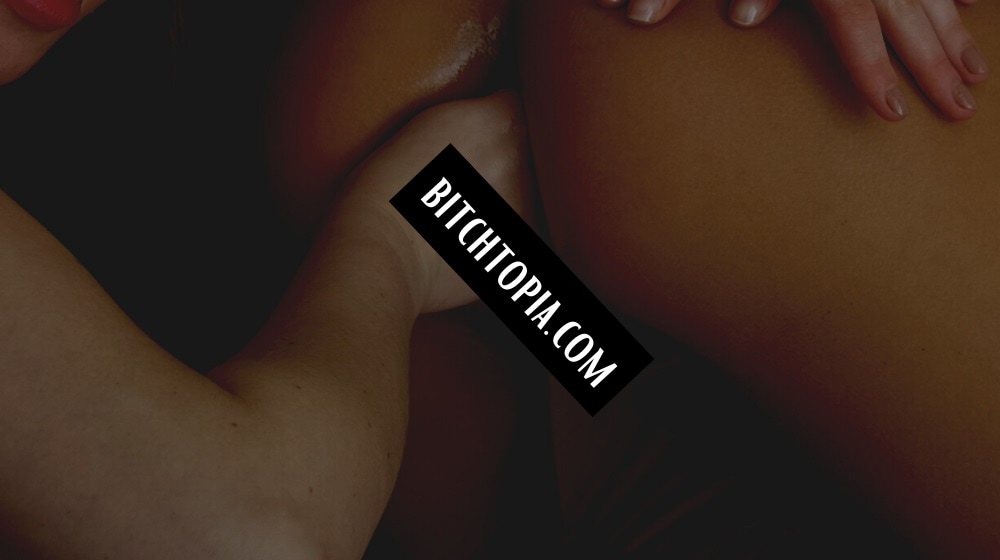 Or the fact that it would feel so good for her. Her pussy was submitting to her friend, doing anything her fingers asked, responding to every single touch and lick, it was mesmerizing. It turns out that a lot of bi/lesbian girls master their hands on a whole new level. This is what was getting my girl to orgasm again and again. They know each other's bodies inside out and it was beautiful, they had such great sexual chemistry, and being able to witness it first hand was a privilege I knew nobody else had ever witnessed from these two creatures.
I Joined In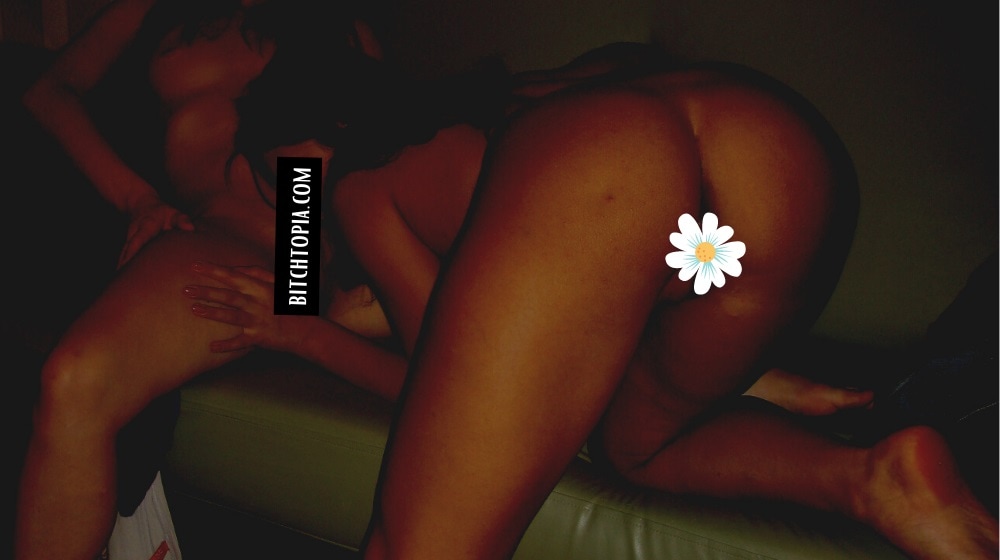 They asked me to join them and I practically jumped in. Her tattooed friend stayed eating her pussy, but used her hands to tell me to fuck her while she was eating her out and making her tremble.
I'll be honest it was hard, I was fucking this beautiful tattooed girl in doggy while she was eating out my girlfriend. She was so wet and nothing was hotter than when I was inside her and fucking her hard and deep and she could no longer eat out my girlfriend, because she was cumming herself.
I gave it my all, It is the first time I've ever had an orgasm, and just not stopped, I did this three times in a row, my cock wouldn't go down, I was so hard and able to cum without any rest in between.
I didn't want it to ever end, we stayed in this position for a nice amount of time, until my girlfriend was orgasmed out and wanted to switch, she then went down on her friend while I fucked her soaking wet and swollen pussy.
This was the first time in my girlfriend's pussy since it had a whole fist inside it. It felt fucking amazing, it was so wet, still so tight and wanting, it just wanted my cock. There was so much hand-holding, cock sucking, cock sharing, begging, squirting, hair-pulling, it was like nothing I've experienced before, everything was so intense, with so many firsts for me.
We Were All Good And Fucked
We all got off that night, it lasted for hours and I am going to say that it was the best night of my entire life, my only regret is not asking my girlfriend sooner if she wanted to open up and see women and explore that curious bisexual side of herself again.
Her friend thanked us for such an incredible night and after kissing us both on the lips she told us we should definitely do it again sometime as she cupped my girlfriend's small tits.
The next day my girlfriend joked about how stretched out she was after being fisted, but we still fucked and she was just as freaky, she even asked me to fuck her like I fucked her friend.
I'm Pretty Chill With Our Current Relationship
I loved this experience and since this story, it's happened a lot. My girlfriend has had solo girl-on-girl sex, bisexual orgies, threesomes and so much more, It's just amazing, I really get on with my girl and I honestly want her to be fully satisfied and so I encourage her to explore herself, in doing so I've met some amazing girls, I know my place, I don't try to become friendly with the girls we fuck, I'm polite, respectful and there to make the experience better, not take away from it. My girl is in charge of what girls we fuck and I think this might be the most chilled out and wholesome relationship I have ever been in.