I am a special breed of woman, I make my men worship me and beg for me when I am not around. I am a femdom mistress which if you sadly don't know what that means, I will give you a brief description. I dominate my partners, in this case, men, I am a female dominant who brings men to their knees time and time again and they love it.
Surprising to some of you, I actually have a husband but I want some new playthings, some new boys to play with as my husband just isn't enough.
However, my playthings have to be obeying, respectful, and ready to have their worlds turned upside down by me because I don't play by the rules and I change bedroom habits for my men forever once they play with me.
My Husband Is So Lucky To Be Able To Worship Me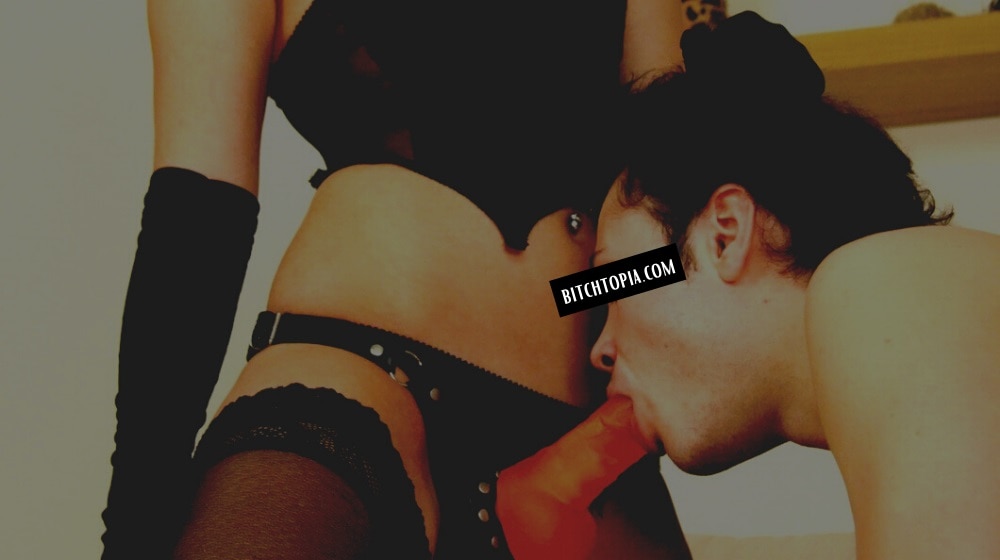 My husband knows how privileged he is to be able to service me. I expect him to worship me and adore every inch of me with not a lot in return and he is okay with that because he is my submissive and we get along just fine when he obeys me.
When my husband is a really good boy I even let him cum inside of me but he has to remember that he must clean me all up when is done or else.
My husband never takes my position over him for granted, he knows he is not worthy of anything but being my sub but I want some fresh meat to play with…
Will you worship me?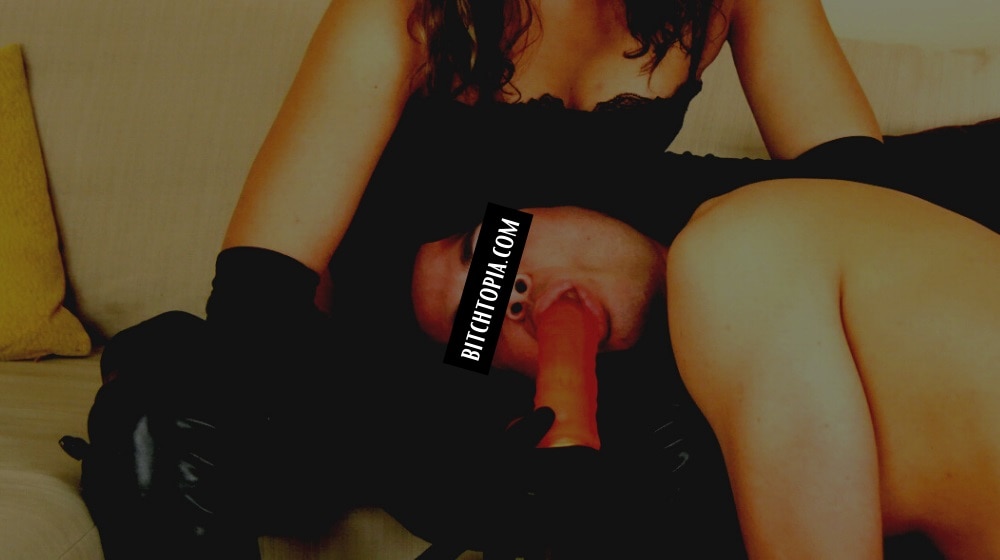 I want to be your femdom mistress, to have you obey me and follow my orders, to submit yourself to my higher power and know you are beneath me and I am in charge of your pleasure. It's not an easy task to be my little pet sub but there will be some of you reading this who are perfect for this position and I want you to come forward immediately. These are my femdom rules that you need to follow in order to be my favorite and most well-behaved little plaything.
Femdom rules you need to follow:
I have some rules for my husband and other men who I play with and when you join me these will be the rules that you must follow too:
You have to be happy to clean me after a long day of work with your tongue.
I don't like cocky, arrogant, macho men, if you're like that, then leave it at my door and drop the whole act the second you're in my company.
You have to do as your told and obey me.
You have to lock your little cock up in chastity till it's your time to be played with.
You have to have your ass ready to be f**ked by my big girl cock.
You have to be clean and std free.
You have to know how to serve me. I like feeling like a queen.
You will only be mine, no other mistress, no girlfriend, no wife, you are all mine.
If I decide you're not going to cum, that decision is final.
No whining, moaning or arguing.
Only call me by my chosen name: Mistress.
I have full control of your entire body and anatomy.
What Will You Get In Return?
In return for obeying all of my femdom rules, you must be wondering what you get in return for being such a good boy? Well, this is it:
You get to worship my body with your tongue and hands, maybe if you're lucky you can get between my legs and share my pussy with my husband.
Maybe I make you both pleasure me while I watch tv and ignore you.
You get to watch me f**k my husband as you wait for your turn.
I might dress you up in a cute little outfit.
You will be taught how to be the perfect little sub.
Your obedience levels will go through the roof!
You will get to be in my presence.
Will I Let You Cum?
Is that all of your subs worry about? Whether or not you're going to cum?
Listen to me, I may tie both you and my husband up and then tease you both, edging you beyond your control, getting you to the point of orgasm, and stopping for hours. Teasing your orgasm out of you until you learn to control yourself and if I am in a good mood, maybe after hours and hours of this I may let you cum, how I let you cum is a secret. Will it be inside me? on me? in my mouth? or will it be on you? or will it be ruined? You won't get to know until it happens that's the fun of it!
The Toys I Play With
As you're going to be joining me, I should let you know what sex toys that I frequently play with! You're going to need to practice and have an understanding of how they work before you join me, honey. Oh, did you think your ass was going to be left out of this? I am afraid not. Tell me what one of these toys below you would like me to use on you in the comments.
Perfect Beginner dildo: This is where it all started for husband, it's for beginners, it's manageable and it's easy to handle. I make all of my subs start here.
A Testing Medium Dildo: This is where my husband was stuck for quite some time, he couldn't seem to manage more than this size. It's a great 'tester' dildo where you can stretch your ass or throat and tease yourself without outgrowing it too quickly.
The Large Beautiful Dildo: My husband and you will get a reward for taking all of my girl cock. This cock is huge and a real challenge but I love her and you are going to love her too, I can just tell.
Cock cage: While you wait your turn, I expect you to wear this cage and if we get close I'll expect you to wear it when you're not with me, just to remind you, you are only mine and your cock is all mine too. Maybe if you live too far away I'll be your keyholder, if you promise to only be mine.
Prostate massager

: While you're waiting your turn or just whilst I am teasing you, I am going to ask you to sit on this, so that you're nice and ready for me. You dare cum and there will be severe punishment.
Could you take playing with my toys and me all day long?
What A Day Looks Like Being My Pet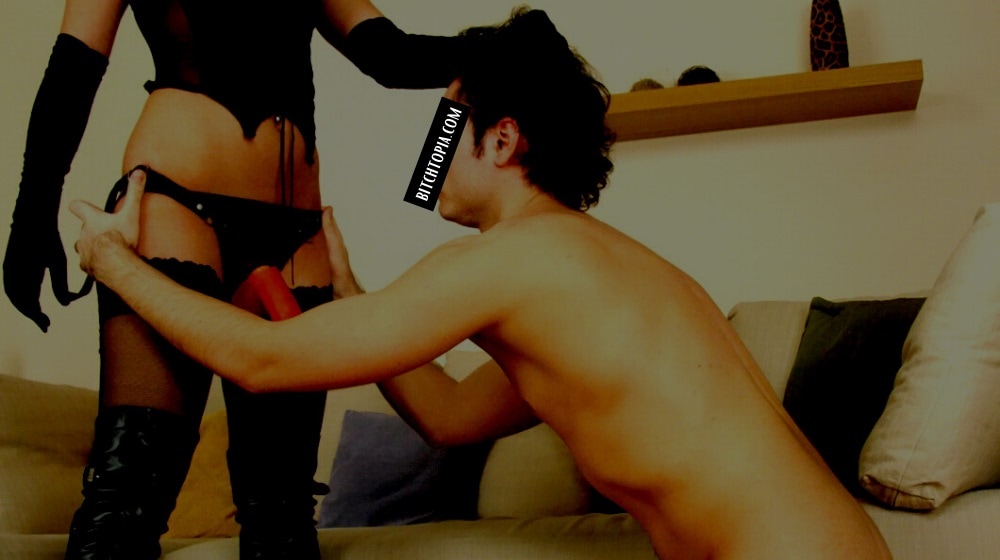 Let's pretend it's a weekend, a Saturday to be precise. On weekdays you must be waiting for me at the door when I come home from work and wait to be cleaned.
On this particular Saturday, you will be washed and ready on your knees for me with a coffee in hand for when I am dressed and ready to come downstairs.
You will be caged, your cock locked away until further notice, like a good boy. In the meantime, my husband will eat my pussy and you will watch on as he brings me to orgasm again and again, until I say stop.
Once he is done you can clean up all of my cum from my wet pussy.
When I am ready I will fuck one of you, whoever has been the more obedient. The other must watch and clean up any spillages from either of us. I will tease both of you, taking turns with your bodies and having you serve me for as long as I desire.
You will obey my commands and call me mistress and understand that any and all mistakes will be punishable.
However, once I am satisfied and get all of it out of my system I will cuddle you and you a kiss and maybe stroke your hair as you fall asleep only for us to wake up and do it all again the next.
I will read your comments
I want any serious subs to come forward, you know who you are, tell me what size dildo you can manage from my list and how you would submit to me.
Tell me what you will do for me in the comments, then if I like your answer I might answer back and maybe we can arrange something.
💋