I know for some it may seem like a weird thing to want to do but it has been on my bucket list since forever. The freedom, the confidence it takes and the rush it gives me to think about are all reasons why it is on my bucket list, and finally after months of research and finding the perfect place to travel to, I found the beach that me and my future husband to be were going to head to for the very first time.
I've Always Wanted To Go To A Nudist Beach
Something about being naked outside around other naked people on a nice sunny day, getting rid of tan lines, and being free just gets me feeling a certain way.
I would go to clothed beaches and always want to take my bikini top off or just lay there naked soaking in the rays without anyone judging me or eyeing me up. Unfortunately for me though we don't live anywhere near a beach and I never have and so making my bucket list dream become a reality required lots of planning and the perfect timing.
I Researched The Heck Out Of It
I like to be prepared and so before we even stepped foot on a nudist beach I wanted to be confident of what to expect and aware of the general rules that people follow. I wanted to know what to wear, what not to do, the best beaches for first-timers, how to build confidence, and a whole host of other things too.
After all of the research that I did, I felt extremely well informed and prepared for any kind of scenario we found ourselves in. All that was left was to find the perfect timing and I knew we would be on our way to finally tick off going to a nudist beach!
Engagement Weekend Away (Perfect Moment)
I had finally found the perfect excuse. We were due a weekend away after recently getting engaged and when my fiancé told me I could pick anywhere, I did and I found a gorgeous adults-only hotel and beach that also so happened to cater to nudist sun-worshippers nearby. After much convincing I got my fiancé to agree to it and we booked a weekend away to a popular beach resort that had a clothed beach and a nudist beach so if it wasn't for us it wasn't a wasted weekend. It was only a few hours away from where we live, long enough to not bump into anyone we know, not so long that we needed a flight.
It was perfect and in the lead-up to it, I could barely contain my excitement. My fiancé was now fully on board and he couldn't wait to get out there either, no matter what we both knew it was going to be an interesting and eye-opening few days.
Our First Nudist Beach Experience
After we had checked in and got ourselves ready we went down to the nudist beach, my fiancé, as soon as we stepped onto the beach just got naked right away, he didn't seem nervous at all and just embraced being there but I decided to wear a see-through sarong and bikini bottoms and no bikini top. Having just my tits out was magical, I felt so free and my fiancé couldn't keep his eyes off of me. As we sat down I just couldn't resist and I too got completely naked, holding my sarong and bikini in my hands, smiling like an idiot out at the sea.
It made my heart race, I felt a mixture of freedom and a feeling of 'everyone is looking at me', it took a few minutes to relax and get used to being naked in front of strangers, and then slowly I became more and more accustomed to it.
We walked along the beachfront, smiling at those who walked past us, enjoying the sea views and the warm sun on our naked skin. Both of us forgot that we were naked as we talked about life and being away on a mini-break. I felt so incredible as the sun tickled the entirety of my body, it was a feeling that I will never forget.
Sunbathing in the nude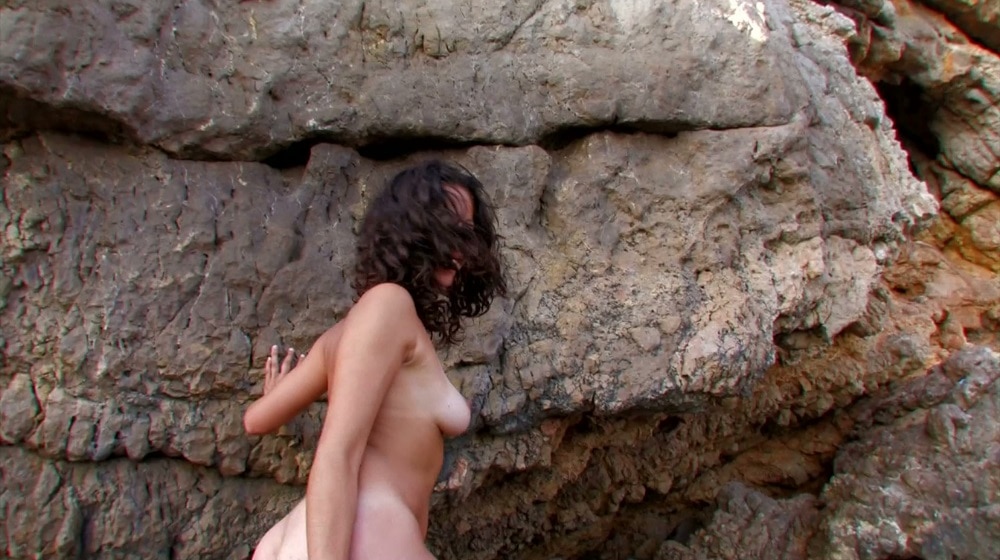 After our walk, we found a nice little spot where we could do some sunbathing. All of those around us were naked and it was delightful to see people so comfortable in their own skin.
As we lay down on our towels completely naked we held hands and laying there with the sun soaking my naked skin was absolutely amazing. The sun was hitting new parts of my body that had never been exposed before. I bent my knees and felt the sun coating my pussy and it tingled as she felt the sun for the first time.
It felt amazing to be so free, it was exceeding my expectations, and being around all the naked people was really hot too and I couldn't help but find myself a little turned on. I did start getting wet, it was a mixture of seeing naked people and them seeing me.
This is where I actually found out I like people watching me 😳 and that exhibitionism really turns me on.
I Started Getting A Little Too Horny
My desire grew. I think it's because I'd never had this experience before but I started throbbing between the legs. The more I tried to calm my thoughts down, the hornier I became. I wanted to fuck my fiancé right then and there, everything in me wanted to pounce on him and feel his cock inside of me.
I whispered to my husband-to-be about how wet and horny I was and to check he stood up and discreetly peered between my legs as I lay there and as he saw how wet I was his eyes widened with a look that told me everything I needed to know, he wanted to have sex with me on that beach with me right then and there too.
I didn't know what to do with myself but I decided I couldn't ignore the feeling completely and so I began tracing my fingers over my naked body and brushing them against my nipples each time I circled around my torso. It felt amazing and it was just making me even more desperate to fuck my fiancé.
He Started Getting Hard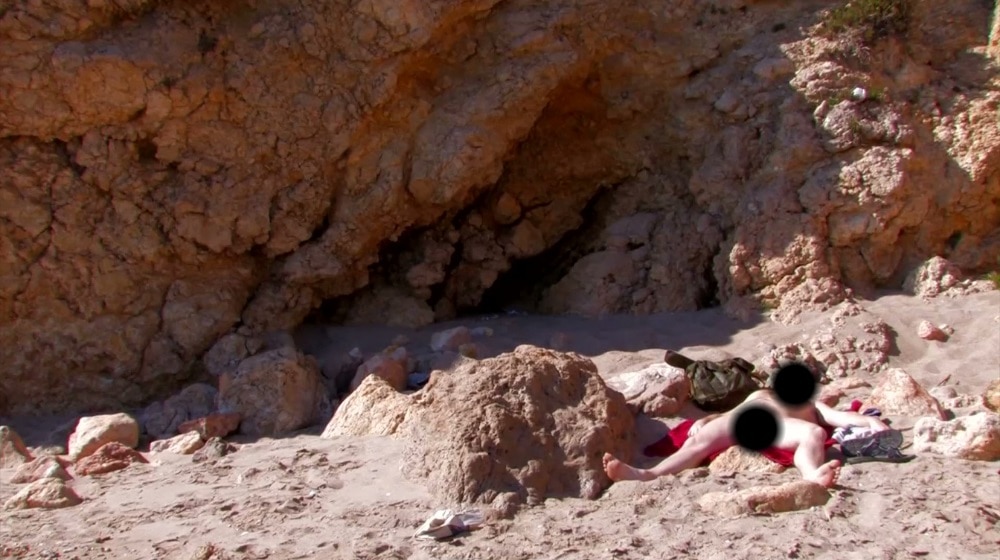 Once my husband-to-be saw how wet I was he became instantly horny too and I watched as he began getting hard laying there next to me knowing full well how wet I was between the legs.
He had to turn onto his front and he told me how hard he was, which made it even worse. Both of us lay there unable to now move and filled completely with an urge to make passionate love.
I'd like to say that we just fucked there and then, but that's not reality, I think we would have been kicked off the beach. We instead waited for my fiancé's boner to go down and then decided to go for a dip in the sea to try and cool down both physically and mentally.
A Quick Dip In The Sea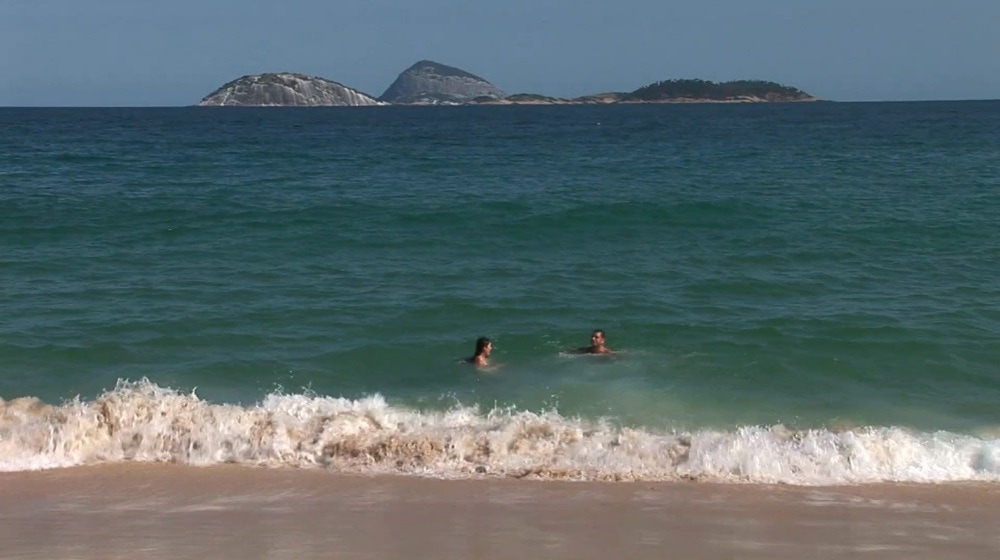 We took an awkward walk to the sea, we didn't want it to be obvious but now knowing what I know I feel many men have to deal with boners at a nudist beach. Now I wanted to fuck my fiancé in the sea, but I didn't want to get caught and so as we began swimming (which felt glorious being naked) I grabbed hold of his cock and I gave him a handjob, I was very discreet about it. His cock was literally throbbing in my hand as I pumped him and he came in literal seconds.
I was still so horny and my fiancé knew that and so he slid his hand between my legs and began rubbing my pussy before sliding two fingers inside of me. I gripped hard onto his arm, desperately trying not to draw attention to ourselves. It felt so good to feel him inside of me, my pussy accepted his fingers with glee but I just couldn't cum, not there. He edged me again and again and whispered into my ear that we would make me cum so hard back at the hotel room and I nodded my head, I couldn't wait.
After that we got out and went back to our sunbathing spot, I was hornier than I was before but we both lay there and dozed off in the afternoon sun, my mind was filled with erotic images and scenarios of being fucked that as soon as the sun started to set we rushed off back to our hotel room and fucked like horny newlyweds.
I came so hard, my skin warm still from the sunshine, my body fully aroused from so much sexual tension, my orgasm knocked me out and I fell asleep again until it was time for dinner.
How Did We Spend The Next Two Days Of Our Holiday?
It was an incredible weekend and once we had become comfortable with being naked it just got better and better and we met some really great people. The things we got up to are too raunchy for the public site so come and join us inside of the membership to find out everything that we got up to on that nudist beach. Let's just say we found a couple as horny as us and neither of us could keep our eyes off of their naked bodies. We learned a lot about ourselves on that trip.
Not Sexuallizing Nudist Beaches
I wanted to add this as we mentioned getting so horny when on a nudist beach. I know that most people just go to them because it's a way of life and they love being nude and I can see myself falling into that category eventually, but there is just something about being naked outside with my partner and being around other naked people that gets my all hot and flustered (in a good way) and I am sure many people can relate to that.
---
Thank you so much for letting us share our story!
S & F
❤