I like to think that everyone likes to 'let go'a little on holiday, I don't know if for me it's the sunshine, the carefree attitude or just spending time with my boyfriend that does it to me but when I am holiday I get horny, very horny.
We went on holiday last summer to a popular tourist destination in Europe, I won't name it but once there you are blessed with endless sunshine, a beautiful blue sea, and amazing food. We were on holiday there for two whole weeks, in a beautiful seaside location and in a simply gorgeous hotel.
---
Quick Warning: If you want my erotic stories and pictures too naughty for this blog sign up to my private erotic membership.
---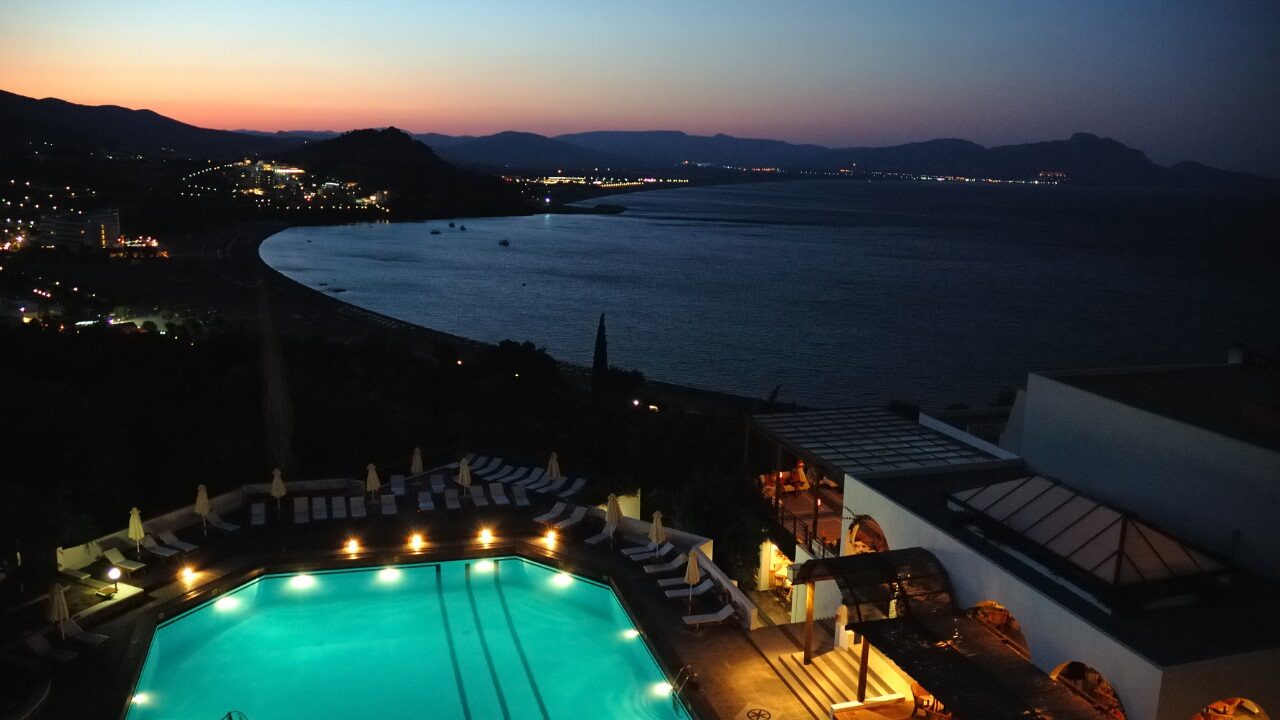 One day whilst out strolling along the beach we stumbled across something that both of us weren't expecting. A nudist beach.
Hundreds of people walking, sunbathing, playing beach games, swimming, eating and just generally having a good time, it looked like a normal beach except they were all naked. We both couldn't believe our eyes, we kept on strolling until a guard on the beach approached us, totally naked, his cock out and proud and his perfectly tanned body right in front of us. He told us that to be on the beach you need to be nude, there was a strict no clothes policy. We thanked him and looked at one another, do we do it?
I looked around us, nobody was paying any attention, we didn't know anybody and so we just started to strip. I pulled off my small denim shirts and then untied my bikini, my boyfriend pulled down his swimming shorts and we both held hands as we carried on walking down the beach.
Our bodies were glistening in the sunshine, my nipples erect from the excitement and my eyes darting around the beach looking at everyone else.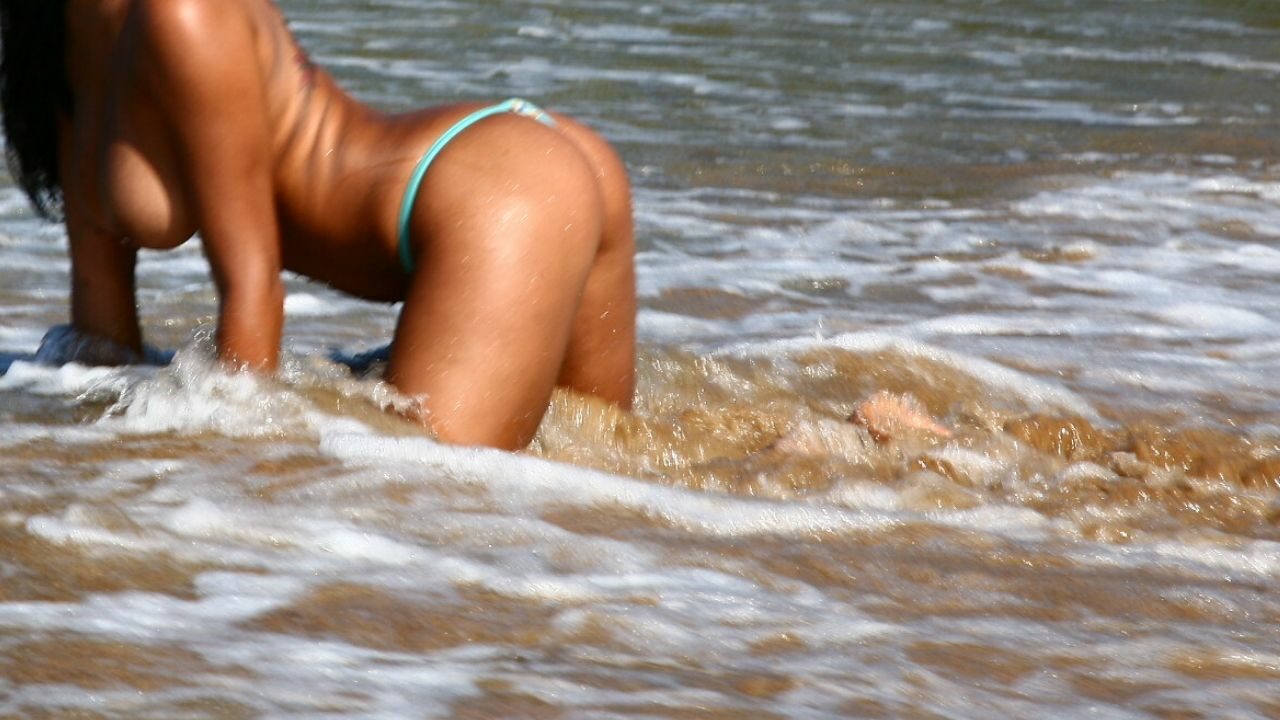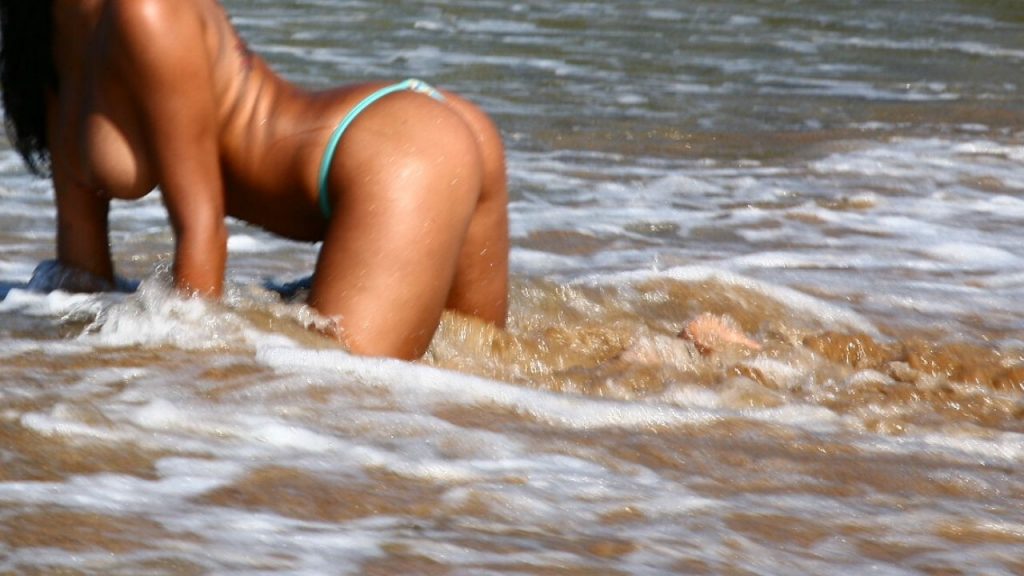 I loved every second of it.
Walking down the beach I did notice some couples look at us and men would linger a little too long on my breasts, I figured we were the youngest couple we had seen yet but that just added to the thrill of it. We walked for ages before turning back to where we came from, we both let go of all inhibitions and vowed to come back the next day and spend the whole day naked and on the beach.
We Decided To Spend The Whole Day On The Nudest Beach
The next morning I shaved my pussy and we headed back to the nudist beach. Stripping off once we found a spot we liked, we lay down our towels and ensured that we were slightly enclosed by two rocks and began sunbathing totally naked.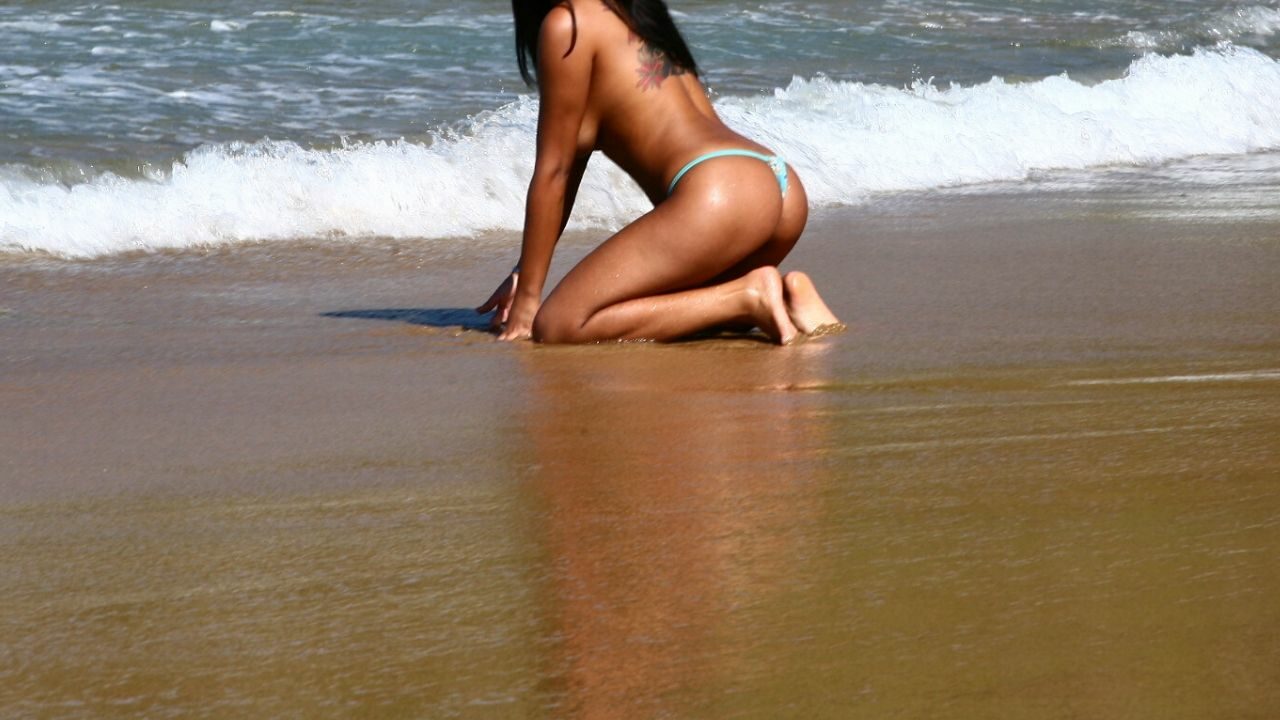 My legs were slightly spread and I was aware that anyone walking past could see my pussy, the thought of it was making me wet. Knowing that strangers could see just how tight and perfect my pussy was a thrill and I decided to spread my legs even wider. My boyfriend was slightly erect and I wanted to fuck him there and then.
As the day went on we figured we couldn't keep our hands off of one another, seeing him naked on the beach was enough to make me want cum there and then and he felt the same for me. We kept on making out and would even run his fingers over my nipples as we lay there in the hot sunshine. At one point we got a little too carried away whilst making out, he pushed his fingers between my legs and I grabbed his erection, moving his thick erect cock up and down and then kissing his neck. We had to practically pry ourselves off of one another, my pussy was soaking wet and anyone walking past could have seen my soaking wet pussy and my boyfriends raging erect cock.
It wasn't until the sun was slowly going down that I noticed the crowds changing, couples were getting frisky and people were actually masturbating right there on the beach. We thought that perhaps everyone was feeling as frisky so we decided to join in, kissing one another and touching each other extremely inappropriately.
Before I knew it I was on top of my boyfriend grinding up against his erect cock and I had a group of onlookers, three men and one woman staring at us and then slowly touching themselves as they watched our performance. I hadn't realized anyone was watching us until I heard a moan come from behind us. A man was masturbating whilst looking at us, I didn't stop him I just carried on grinding against my boyfriend's cock, now allowing him to put his cock inside of me.
Everyone Was Watching Us Having Sex On The Nudist Beach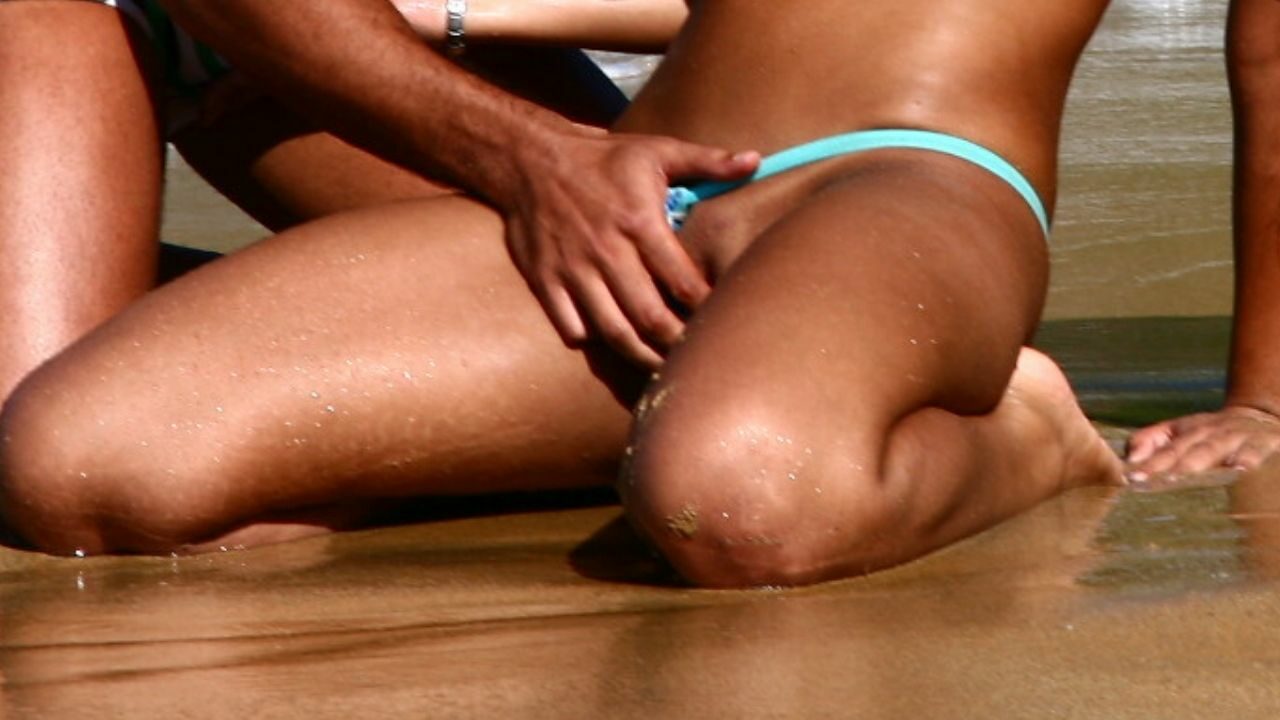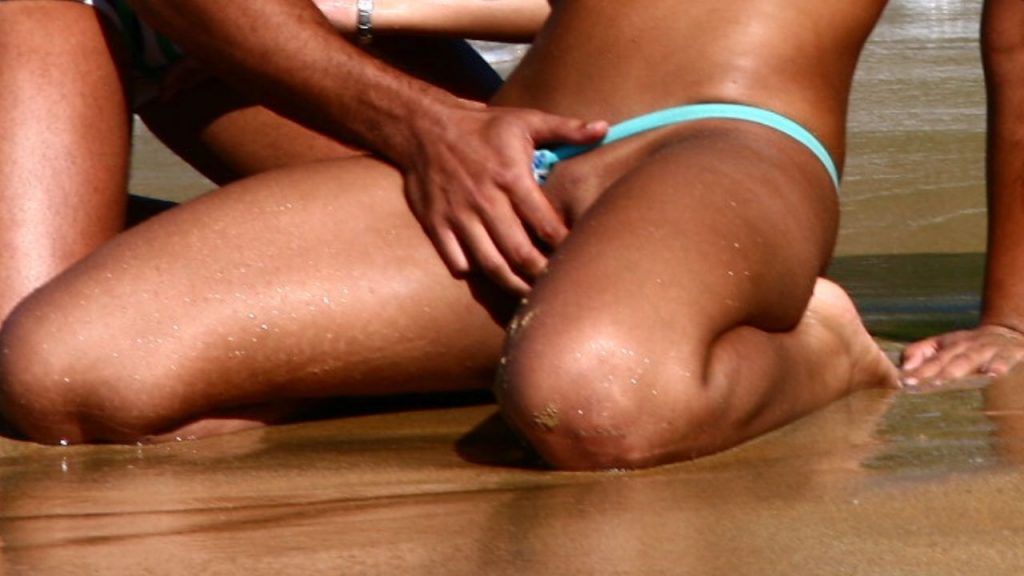 It was thrilling. I could hear more moaning now and I decided to finally allow my boyfriend to slide his cock inside of my dripping wet pussy. The people watching us could only see the back of me but I still made sure to perform. I bounced up and down my boyfriend's cock, pulling it in and out of me and rocking back and forth, he was grabbing at my tanned hips and begging me to go faster.
The three men and one woman watching us were all now touching themselves and one man was even fucking the woman in doggy style as they watched on. The three men were way older than us but they were definitely enjoying the free show but the looks of their throbbing cocks.
My boyfriend told me to face the other way and I did so that now they had a full view of my face, breasts, and torso, before I slid myself back onto his cock I decided to lean slightly back and touch my clit. This drove them all wild, the man fucking the woman increased his thrusts and the men touching themselves began to moan. I needed to be back on my boyfriend's veiny cock so I slid back down his shaft with my tight, dripping wet pussy and he thrust into me as fast he could as I leaned back slightly and played with my clit.
He was giving quite the performance, moaning out as he thrust his cock in and out of me as fast and rough as he could. I grabbed at my puffy pink nipple and then back to my clit, I was having the best time of my life.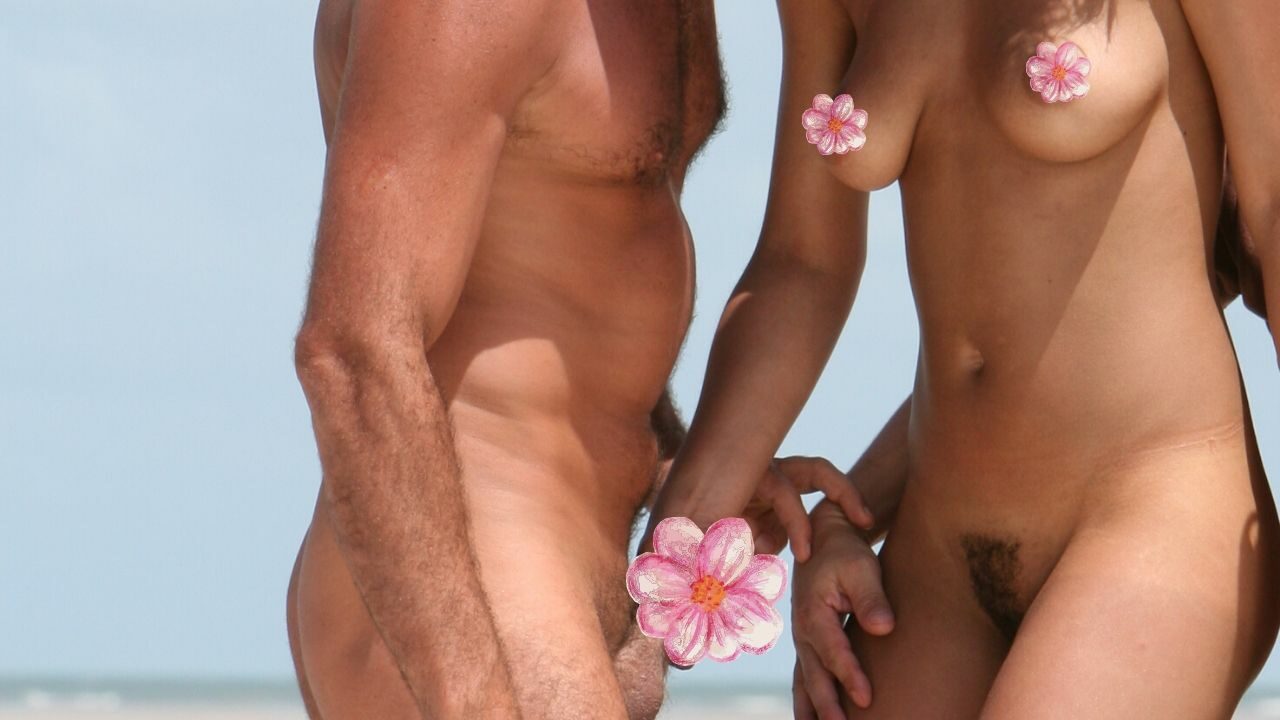 One of the men watching us started to cum, he moved his head back as the warm white fluid seeped out onto the sand.
My boyfriend kept up an amazing rhythm, my pussy was beginning to coat his cock in the white fluid. The man who came still stayed to watch the big finish. My boyfriend told me to get onto my knees so I did, he stood tall in front of me as I took hold of his cock with my soft hands and brought him to orgasm all over my face.
His cum was thick and warm and his orgasm was hard, he grabbed my hair as he came all over my face and he even needed a second to recover.
We both stood up, I wiped the cum from my face and watched as the man fucking the woman pulled out and began fucking her hard in the ass. The man still masturbating began to cum and so did the woman, she was screaming out this man's name as he kept up the thrusts and made her shake with pleasure. Once she came he also began to cum deep inside of her, collapsing on top of her when he had filled her ass.
We walked away into the moonlight and vowed to come back here every summer.