Lots and lots of men are opposed to the idea of pegging but it had been a fantasy of mine to peg my husband for years. Today I wanted to share with you all the time my husband finally gave in to the idea and learned that he had been missing out on such incredible pleasure for so many years. I wanted to share our story in the hopes of somebody reading it and giving it a try for themselves because there is so much pleasure to be found and so many people miss out on it for fear of judgment. If you have any questions feel free to leave them down below and I will get back to you.
---
Update: If you want even more explicit and filthier erotic stories, user-submitted fully nude content, jaw-dropping videos, and more come and join us inside of the Topia members-only area.
My Husband Had Never Been Pegged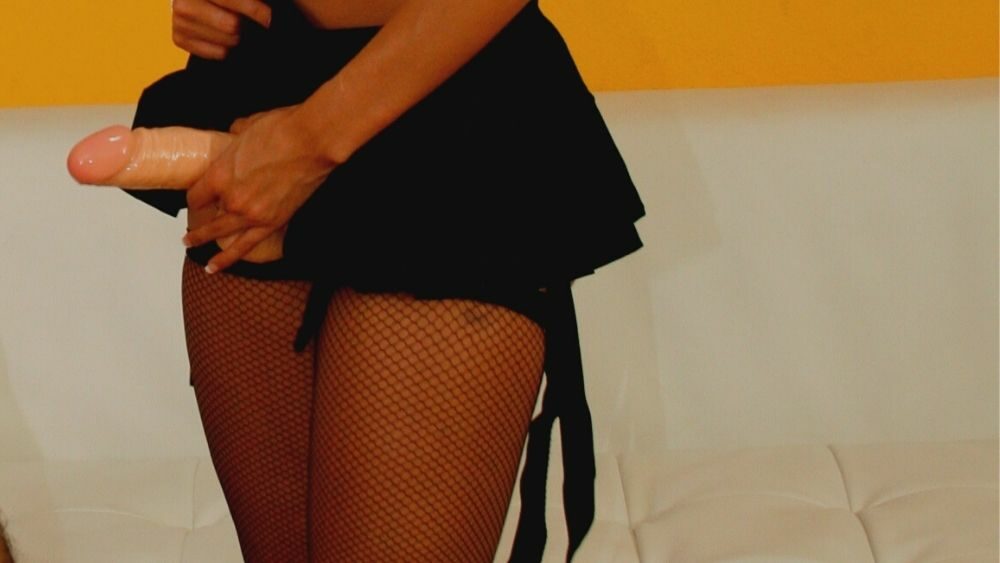 I've been with him for 5 years and I have been trying to get him to open up to the idea of pegging for some time now. He isn't opposed entirely to butt stuff, he enjoys me licking his ass and fingering it from time to time but he could not get over his mental block of having something up there that's larger than my fingers. It's as if as soon as he did that it would change him and whenever we got close to trying it would stop me and we would be back in square one.
My boyfriend before my husband taught me all about pegging, it was a huge kink of his and it became a massive part of our relationship. I've seen how magical it can be for a guy to have a strap-on used on him and I wanted to show my husband the pleasure he could get from a different type of stimulation. My husband listened to my stories and my experiences and he was slowly but surely coming round to the idea of being pegged.
I Got Rid Of The Stigma
It took a good while but I finally managed to get rid of the stigma for my husband. He enjoyed me licking and playing with his ass when I gave him a blowjob and it always made him cum harder than when I didn't. I slowly introduced two fingers instead of one and then made butt play a normal and regular thing for us.
My husband became more and more used to me being around his ass and eventually, he started opening up to the idea of pegging and he realized that perhaps I was telling the truth and he was going to love it once he tried it.
After he became more and more receptive we then got a couple of vibrating butt plugs and we both played with them together, it was fucking hot and a lot of fun. My husband said he felt immense pleasure from the plugs and it was evident from how hard and how regularly he was cumming that this was just the beginning of his prostate pleasure journey.
Pegging My Husband For The First Time
I bought the most unintimidating pegging strap-on/dildo (this is the strap-on that I bought for my husband) that I could find. We both felt it and fooled around with it before my husband said he was ready. He looked at it as a new type of pleasure, something he had heard so much about and something he was now ready for.
We both showered together before, I then gave him a hot oil massage on our bed, and halfway through I started licking his butt, he was in heaven and I knew it was time, I lubed him up and I slowly slipped the pegging dildo into his ass.
I started with slow shallow thrusts, it was really romantic, It took me about 5 minutes for all my experience to come flooding back to me. My husband tensed up at first but he soon relaxed and I could feel and see how much pleasure he was experiencing from the noises he was making.
It Was Time To Make Him Cum
I got him on all fours, reached around, and gripped his hard dick, while slowly stroking his prostate with my peg. His cock was so hard, his pre-cum was dripping down onto my hands.
I felt him build up his orgasm, I kept him here, ready to blow and pent up all of his pleasure and his moaning showed me it was working, I built up my speed, went a little harder, and stopped stroking his cock, this is the key to a really long orgasm.
It all got too much and he started cumming, I didn't stop, I kept my speed and rhythm, I could tell he had never experienced anything like this before, he was breathless, speechless, and shaking, I still didn't stop.
His orgasm just didn't stop, I decided it was time to let out all his pent-up cum. I reached around and stroked his cock while keeping pace and he came in seconds and squirted the biggest load I'd ever seen, everywhere. I gave my husband the biggest pegging orgasm and he couldn't get over it.
Nothing will make a man moan or cum harder than being pegged, certainly in my experience anyway. Being pegged for hours straight doesn't always have to be the way, it can be quick, slow or somewhere in between you just have to listen to your partner's body.
He Admitted It Was The Best He'd Ever Had
It blew his mind, it's changed everything and this was just the start, we've built him to multiple orgasms in one go, just one after the other, hour-long pegging sessions and I've now got him a proper sized more advanced pegging dildo with much more length and girth and he loves it. He takes it so easily and just like with his first one, it is quite non-anatomical which makes trying these things a little easier for men like my husband.