A lot has happened since the last time that I posted, my husband and I have really progressed since we first started pegging for the first time (you can read about it here) and now we are ready to share with you how it's going for us so far. My husband has come on dramatically, he went from being opposed to the idea of pegging to loving it daily. If you need any advice or have any questions feel free to leave them in the comment section down below.
I've Gotten Really Good At Pegging
I used to be amazing at pegging with my ex, but years of not doing it made me a little rusty, however, over the past few months I've been practicing with my husband and I have gotten much better than I ever was.
I am confident, I have great rhythm, I know what makes my husband tick and I certainly know what feels good. It took me a little while to get the hang of it back again but it wasn't lost and now I am better than before.
I Wanted To Give Him A 10 Out Of 10 Pegging Climax
My husband has great orgasms when I peg him, whether it's for a short time or when I peg him for hours he is always trembling with pleasure and he has found a new type of orgasm that he never knew existed before, one that can only be achieved from anal stimulation.
His pleasure from pegging lead me to want to try and give my husband the best orgasm of his life. The kind that lasts for 15 minutes and has him shaking, moaning, and passing out. I knew it wasn't going to be the easiest process but I knew it was possible and I wanted my husband to never forget the orgasm he was about to have.
How I Was Going To Do It (My Pegging Process)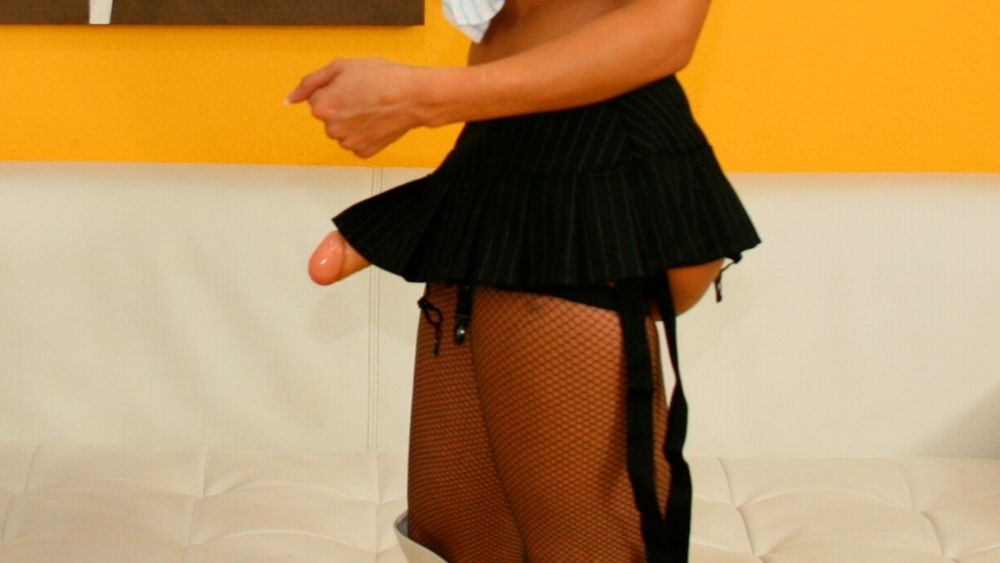 I needed a plan, I knew his intense orgasm wasn't going to just 'happen', I needed to make it perfect and I needed to do everything I usually did except with a few added steps to take his intense orgasm to a mind-blowing, leg trembling, explosive strap-on orgasm.
Not letting him cum
The first step of my plan was not letting my husband cum. I decided two weeks was the perfect amount of time, no masturbation, no sex, no nothing, However, after week one I started wearing really slutty clothes around the house and in public, I made him pleasure me and I talked about what I wanted to do to him.
I got him all worked up, his cock was all swollen and throbbing yet I wouldn't let him relieve himself, he just had to keep on waiting until the time was up. I got this idea from things I read about Femdom pegging and this orgasm denial was one of the most important steps that I felt helped achieve my husband's orgasm.
Getting the right tools
I needed a magic wand with a special attachment, some good anal lube, and a few different-sized pegging dildos.
I used the magic wand with the cock attachment against his dick, this would drive him absolutely wild for me, his cock would leak with pre-cum and he would be desperate to be allowed to climax and my answer was always no. The anal lube was this one, we find it's the best for anal penetration, it doesn't dry up and it's very slidable.
Finally, I gathered up my pegging dildos and strap-on and I found some handcuffs I could use to restrain him. I had everything I needed and as soon as the two weeks were up, it was his time to cum like never before.
Making Myself As Sexy As Possible
My husband was desperate to be used up but we still had to wait a few more days so I planned what I was going to wear when the day finally came. A gorgeous lingerie set that always makes his heart race and just a simple silk dressing gown to wrap myself up in beforehand.
In the days leading up to his insane orgasm I dressed as sexy as possible, I was as slutty and as sultry as I could be and it worked. My husband would have got on his knees and begged if I had asked.
The Best Pegging Orgasm Of His Life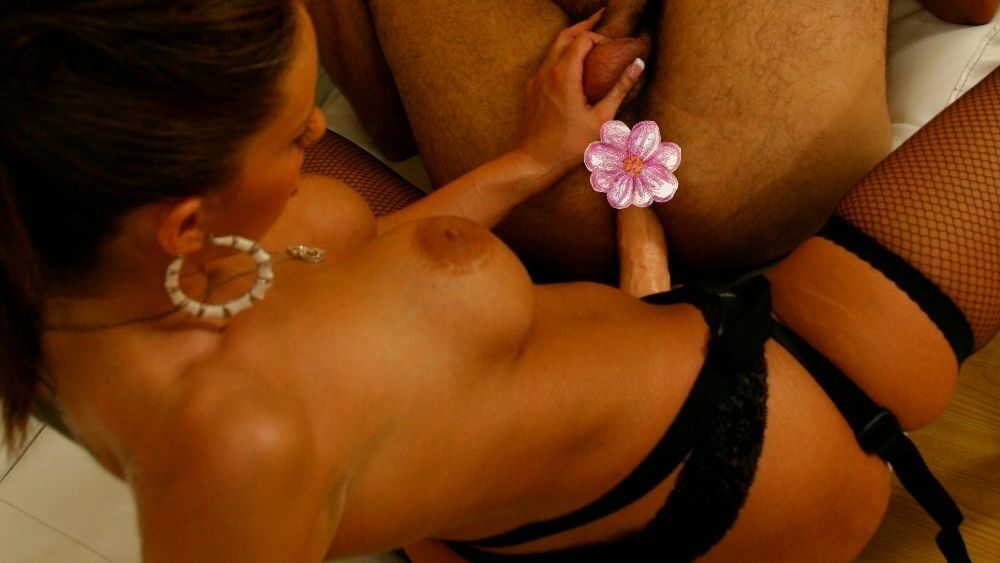 It was finally the day. We both were off work and I had everything ready, we took our time, my husband was so horny, I'd been teasing the poor thing for two weeks and finally the big moment was here.
I relaxed him, we did some foreplay, I gave him a blowjob, got him all lubed up, and got all of my toys ready.
I restrained his hands, got the magic wand attachment wrapped around his dick (the one I mentioned above), put myself inside of him, and began the fun. I started with deep slow thrusts, throwing in some circular grinding to stroke his prostate and I occasionally turned on the vibrations of the wand which made his shudder with pleasure.
He worked with me, telling me he was close to cumming so I could stop and coast his orgasm. I pegged him for an hour straight, he was so desperate to orgasm and at this point in a semi-constant orgasmic state.
I decided it was time, I thrust quicker, got him to the point and pushed him past it, kept his prostate cumming to the point he was about to pass out, then I turned on the vibration of the wand while I kept thrusting and he had a cock orgasm. I have never seen anyone cum so hard in my entire life.
There Was So Much Cum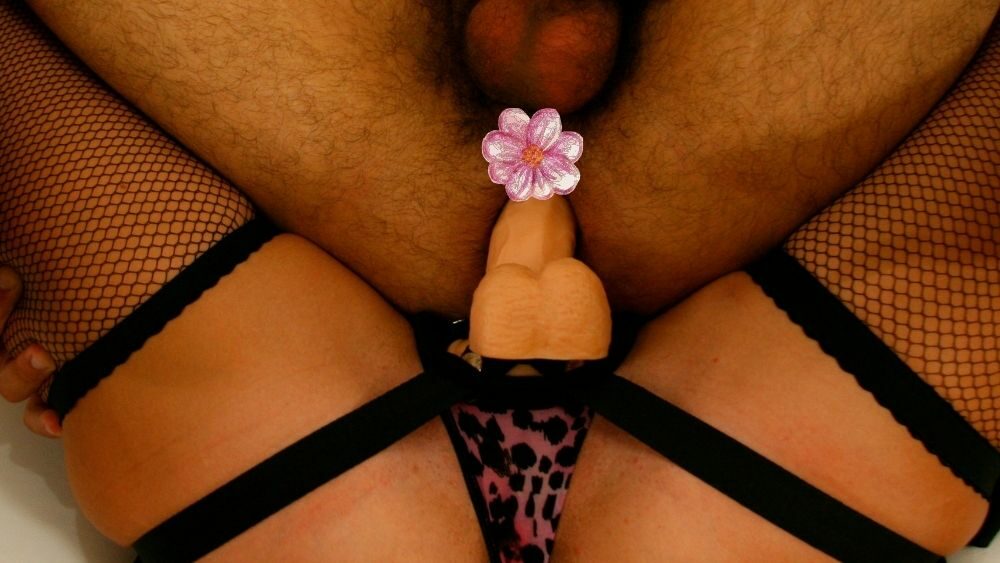 It was like something out of a porno, I couldn't see until after, but I could hear him moan and constantly keep cumming. He was riding out his orgasm and it looked and sounded tremendous.
Our bed was covered in loads and loads of his cum. After, when he was finally done he just collapsed, he was trembling, I was so turned on at what I had just achieved. I was so happy that I had given him such a strong and unforgettable orgasm, all thanks to some teasing and my strap-on.
Was It His Best Orgasm?
It broke him. He lay there for hours, completely out of it. He later explained he had never ever felt anything so intense in his whole life and that he was exhausted from his entire body feeling such pleasure.
---
If you want more like this make sure you join the erotic membership, it is far filthier, with user-submitted content released every single day.