I wanted to talk to you today about what femdom pegging is actually like. Many of you may have an idea of it from porn and word of mouth but I wanted a true account to be published and I wanted everybody to know what it's actually like for a woman to peg her man's ass. It can be a risky subject to talk about it and express with a partner but once you find someone who is open to it and eager, you will never look back.
My Name Is Annie And I'm A Femdom Into Pegging
I am a female who enjoys using a big fat dildo on my husband and fucking his tight little asshole. I love being in-charge in the bedroom and having him submit to me. Some people do this just on the weekends but we like to do it whenever we get the chance, stretching out my husband's ass and making him moan like a little bitch.
My Husband Is A Big, Strong Man
Outside of the bedroom, my husband is not as he seems inside the bedroom. He has all of the strength in the world but, he couldn't stop a 5.1ft petite woman from claiming his beautiful ass with my cute pink strap-on.
From looking at him you wouldn't consider him to be so submissive and ready to be dominated as he is but I guess looks can be deceiving.
Seriously, All Men Are The Same
They hate the idea of pegging until I talk them round and from the first time they feel my soft dildo enter their ass they are moaning and begging for more and then before you know it, I'm tying them up, whispering dirty things into their ear, while I firmly fuck them from behind, whilst they moan and beg me not to stop as their throbbing cock spits out cum all over the bed and then once they have had that first taste of pure heaven, they can never go back and they realize that pegging is in fact life-changing.
How Did I Get Him To Try It?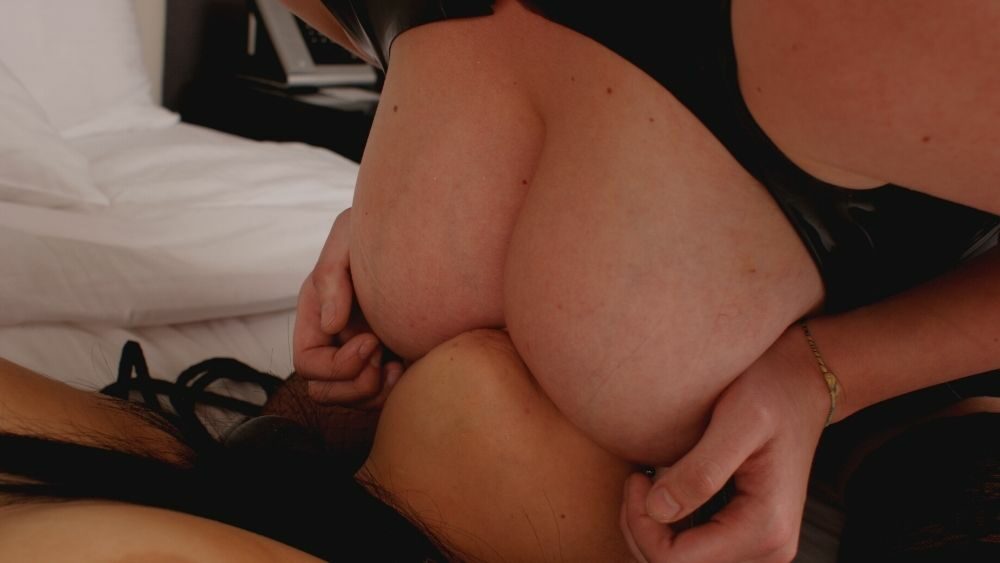 I've had other femdom relationships that involved pegging and strapon sex before my husband so I knew what I was doing, but our journey started with light domination, I'd spank him, tie him up and use him as my plaything.
When he was all tied up I would ride him and not let him cum for hours at a time, practicing orgasm control and making him explode with pleasure when he finally did cum, even if I did ruin his orgasm from time to time.
I knew I wanted his ass, but at the start, he was shy and didn't want to try any butt play. All he would let me do was lick it from time to time but I knew some anal penetration would blow his mind.
Finally, I didn't let him cum for a week and was such a tease, his cock was practically purple from so much built-up desire, and when I knew he was ready and allowed to cum, while giving him a blowjob I started licking his ass, he responded so well and after that point, it took all of two fingers inside of him to make him have the best orgasm of his life.
It took a day after that intense experience to have him ask me if we could try pegging.
The First Time I Pegged My Husband
I really turned him on beforehand, teasing him and playing with his cock, getting him really built up and ready to blow.
I was wearing my cute sheer lingerie set with my favorite strap-on in place, I was really gentle, I had him lay on his front, I gave him a massage, teased him, used my favorite lube, and then slowly pushed all my 6-inch dildo inside his ass.
His moans were different, they were uncontrollable, I was waking up his prostate and once it was awake, he was a shaking mess, begging me for more.
I got him in doggy style and I could see his cock rock solid, standing firm and solid with every thrust. I reached around and his cock was covered in precum.
I kept the same rhythm and I knew it wouldn't be long until he had the best orgasm of his life x10. I could feel his body trembling underneath mine and from the noises, he was making, I knew he was lost in a world of pleasure and I was right, he started to cum hard, he was moaning out so loudly, gripping onto the sheets and I watched as he had the most amazing orgasm of his life.
From then on he was a changed man and he now begs for me to dominate his ass and give him the pleasure he knows he can have from anal play.
After that first time, things have progressed a lot, now I flog him, tie him up and make his ass mine. I'm even experimenting with locking him up in a cock cage and making his ass the only form of release, which has been a lot of fun for us both.
I've started writing all of our pegging stories in the membership (they are way more graphic in there) but I think Jess might release a couple more for free if you like this one 🙂
You Should Let Your Wife Peg You
Guys! I'm being honest, lots of women out there love pegging and you should give it a try. You won't lose your masculinity you will just gain even more pleasure in the bedroom by trying something completely new. It's just a different form of release that feels amazing and is missed out on by so many men.
If you're new to pegging remember to take things slow, communicate, and enjoy the incredible sensations it brings.
Annie <3