Since it happened my wife and I have been wanting to share our gangbang story. It was so amazing that it has changed our sex lives forever and there's literally nobody we can tell about it (yay conservative families and friends). We have been aching to share our story and finally, we have found somewhere we can be free and open up to you all about my wife's first-ever amateur gangbang.
---
You can watch an incredible video of a user-submitted first ever gangbang in the bitchtopia member's area.
My Girlfriend Always Liked Being The Center Of Attention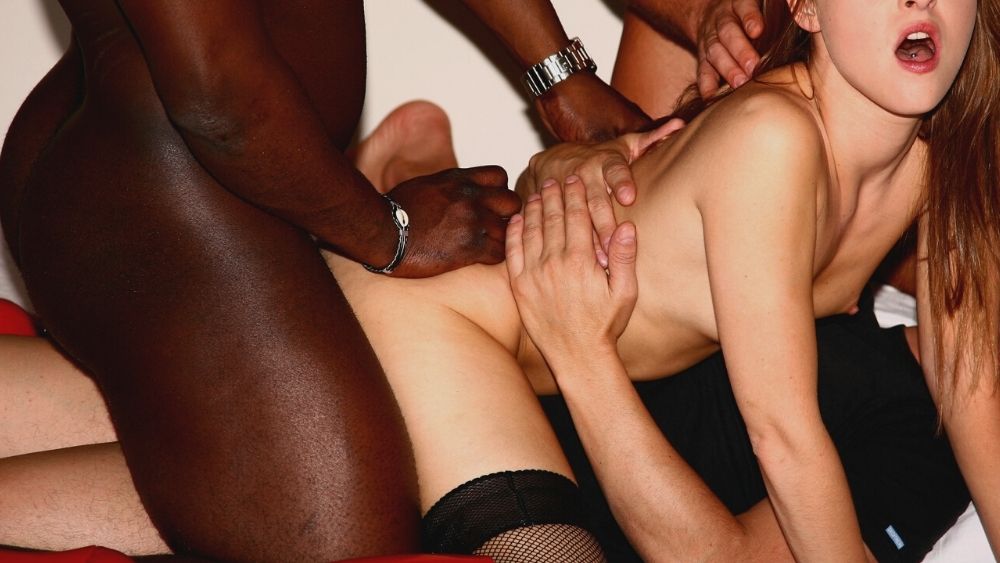 Long before our gangbang it was obvious that my girlfriend loved being the star of the show. She enjoyed things like exhibitionism, having sex where people might be able to see us, and wearing revealing clothing whenever she could. She loved all eyes on her and during sex she loved to impress.
My girlfriend would even show off in front of my friends, wearing short skirts, no bra, dancing, flirting, and just generally demanding all of the eyes in the room and I found it so alluring and so incredibly sexy.
Not long into our relationship she opened up about her love for threesomes, she didn't care if it was MFM or FMF, she just loved being involved. I was curious about her and being open myself, we decided to explore these urges together and we had some great times.
We've had threesomes before and even a foursome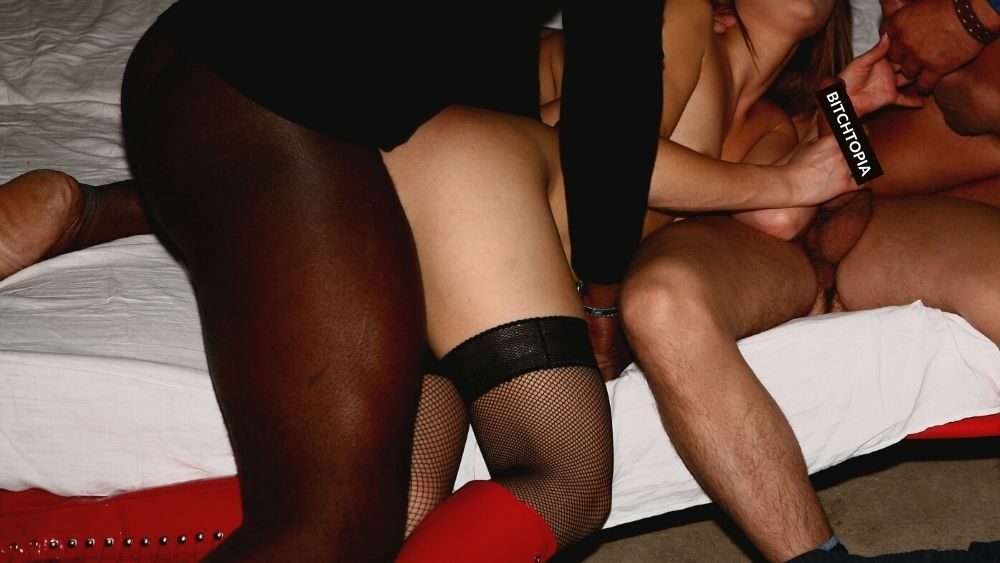 After years of fooling around with other couples and singles, we talked about gangbangs. At first, I thought it was too much of a big step but the more we discussed it and I saw how horny it would make my girlfriend whenever we brought the subject up, I really warmed up to the idea.
I thought it was going to be a big leap but when we looked back, we realized that we had not just had countless threesomes but foursomes too with gorgeous couples from all over the world. We had enjoyed so many different kinds of people and my girlfriend always left smiling and overjoyed with our meetings.
So, it was set. My girlfriend was going to tick off one of her biggest fantasies, having a gangbang and after some planning and a little back and forth the date was set and her first gangbang encounter was underway.
Her First Amateur Gangbang With My Friends
We met the right guys to do it with, some we had played with before and some were great candidates that we had found on our favorite dating site.
At first, they all undressed my girlfriend and she kissed them as they pulled off her clothes, I watched as they began to grope her breasts and her ass, running their fingers over her body and then carefully laying her down so that everyone could enjoy her.
One guy instantly began rubbing her pussy, making my girlfriend moan and head straight for sucking cock. She went from one cock to the next, licking and sucking on them as she moved around the circle. She was the ultimate center of attention, I have never seen her so lost in the moment and so darn horny.
She began fucking them all, riding them in cowgirl, doggy, missionary, reverse cowgirl, and all taking turns with her pussy before she begged them to fuck her ass too. Seeing my girlfriend getting double penetrated, made my mouth hang open in awe, she was moaning and taking each cock in any of her holes like a true whore and I was so proud of her.
That night she took the biggest cock I have ever seen, she had to go real slow as he squeezed himself inside of her but you should have heard her moan as he fucked her. My girlfriend even squirted for the first time, one guy made it happen with his cock and another with his fingers, she was soaking wet and every single guy there had his eyes glued on my girlfriend, completely besotted by her and her body.
They All Came In Her Mouth
A few of them came twice but she made them all cum in her mouth at the end, one by one she made them emptied their load into her and she took every last drop as if it was her last drink on Earth. It was far better than any bukkake porno I had ever seen. Some had already cum on her body but she wanted as much as she could have in her throat.
She was the true and utter center of attention, a real cum slut (cum slut story here) nothing we had ever done before this could ever compare to my girlfriend that night.
I watched her move around, taking these guy's cum. I was impressed by her and I knew she would want to do this again and from how much I had cum from watching her and all of these guys I knew I wanted it too.
Something Crazy Happens To Her Body
Seeing my girlfriend letting loose like that with a bunch of guys was tremendous but I noticed something happened to her that never usually does. For some reason, my girlfriend seemed to cum so much harder in this group situation than she ever has done before. She even squirted, twice, and I have never ever seen her squirt like that before and we have had a lot of sex.
Also, the change in her mood was too obvious not to mention, she was happy before but after her first gangbang she was on cloud 9 and the high didn't stop, she was ecstatic for days afterward. Her sex drive was also sky-high after that night, it was high before but her appetite for sex was something else for ages afterward.
It's almost like her body was craving this setting and scene so much, she needed it and now it's all she can talk about. We just can't wait to do it again and this time I am going to make sure I enjoy just being in the moment even more so.
Would you let your wife be involved in a gangbang?
I am curious to know if you would be open to having a gangbang with your significant other? I know it is a big step for a lot of people and it was for us too but it worked out better than either of us could have imagined.
Is sharing your partner like that something you could do? Let us know down below, we would love to hear your opinions!