This is just something that happened to me this past week that I wanted to share. It has been quite strange for me and I don't know what to think. My girlfriend did something that I can't get my head around but first I have to start from the beginning…
My girlfriend and I have been together for 5 years and we more or less share the same circle of friends which is all pretty normal, they love her and she loves them, everyone gets along and we all have a great time when we hang out together.
My girlfriend is the hottest girl in the group, I'm pretty biased, but all my friends have told me she's hot and I agree. She is just one of those people that you can't take your eyes off of. She is captivating, her facial features perfect and to top it all off she is a great person. or she was? I don't know anymore.
Anyway, everything was great but here is where the problem starts.
My Friend Kody Is Where It All Started
My friend is the hottest guy in the group, we all joke about it, but he could be a model and that's coming from every guy and girl in the group. He's 6'4, chiseled, muscular, his jawline could cut glass, and just like my girlfriend, he is a great person. Anyone would think with such a great face and physique he would be a douchebag but he's not.
Now, Kody has a thing for feet that nobody knew about until he shared it with me. He was asking if I had a foot fetish and if I thought it was weird and he opened up to me about why it turns him on and how much he loves women's feet. I supported him and gave him a safe place to share his kink with me, a friend, and the only other person I ever told was my girlfriend.
Telling Her About His Foot Fetish
We share everything together and we keep things a secret, so when I found out about Kody's foot fetish I told her later that night. I think most couples probably do this, there's a respect between the two of you where you know that secret is going nowhere, you just want to share it with the person you are closest with.
She kept asking questions about his foot fetish and I felt like it turned her on. I was joking around when I told her to never wear open-toe shoes or sandals around him but she had a glimmer of something in her eye that told me she was going to take that as a challenge and I did sort of regret telling her at that moment, she has never reacted like this to any secret ever before.
I Take What I Get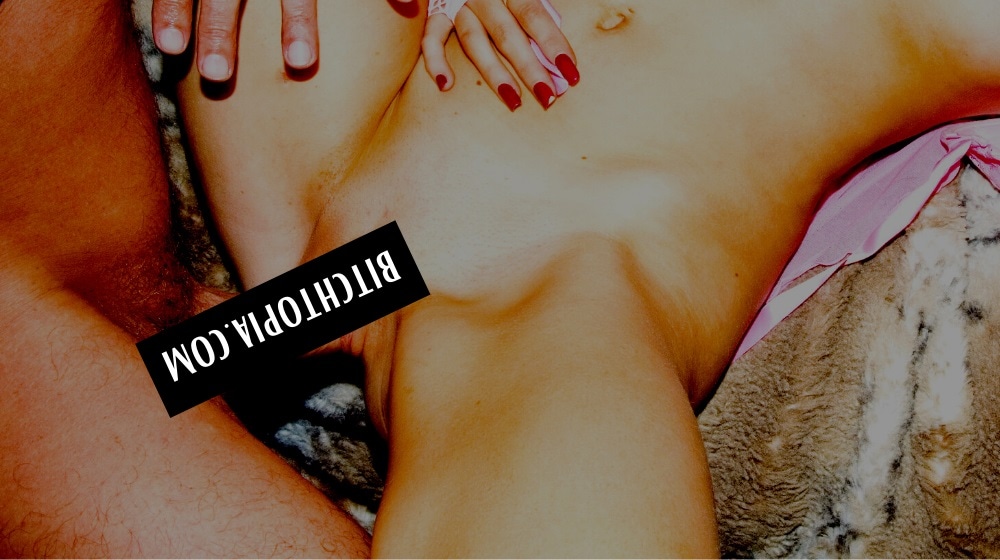 That very night after we had been talking about Kody's foot fetish and she had been asking me non-stop questions and quizzing me on what a foot fetish did to a person, we fucked. She was so horny. Hornier than I had seen her in a while, it felt like it came out of nowhere and part of me suspected that she might have been horny because we had been talking about Kody but I wasn't about to get bent over the fact she might have been thinking about a friend. Shit, I think about other people sometimes when we fuck too.
The sex we had was out of this world, she was riding me as if her life depended on it, doing things with her body I had never seen her do before, she wanted my cock so badly and she was going to do anything to get us off.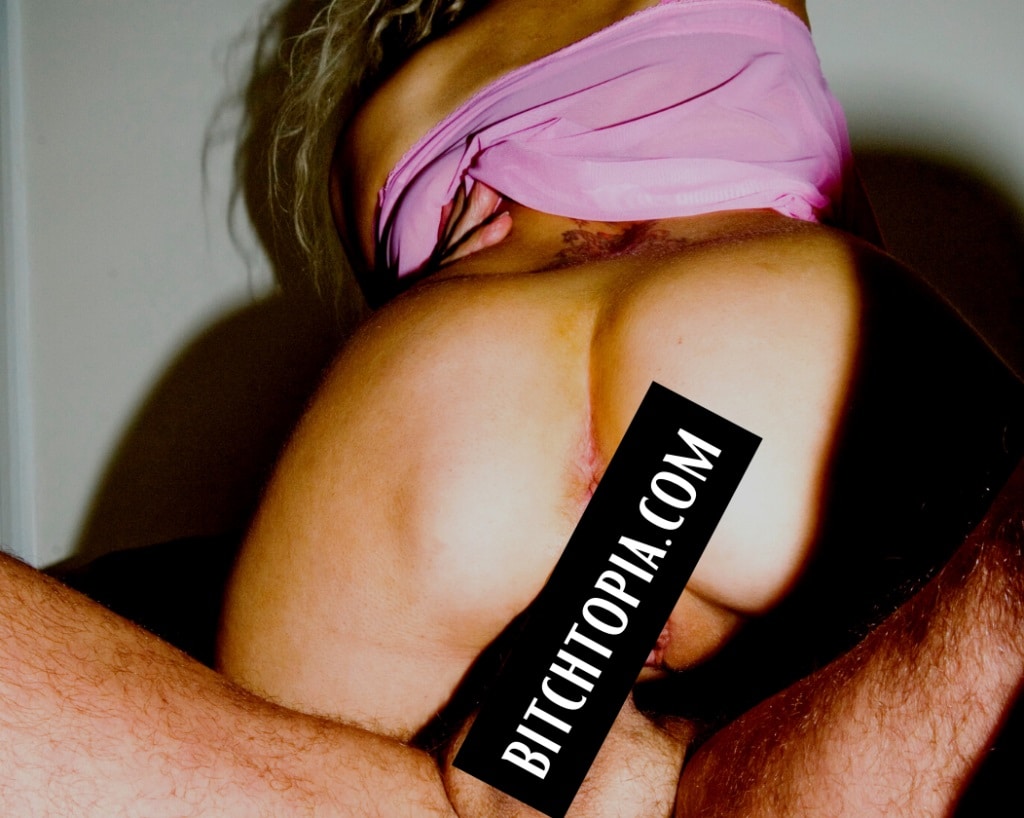 Although I suspected she was horny because of Kody I didn't care and looking back I also didn't put two and two together and realize that this was a turning point for her. My girlfriend is so hot and when you have a woman having sex with you the way that she did, you tend not to think about the ifs and buts, you just get on with the task at hand and worry about the consequences later and that is exactly what I did.
The Next Time They Met
A few days later Kody came round to our place and truthfully I had forgotten about the whole sex thing after telling my girlfriend about his foot fetish. I greeted him as normal and we hung out as we always do, I didn't think any differently of him but it wasn't until my girlfriend joined us that I started to notice subtle signs from her that she was giving to Kody.
It got a little weird. I noticed out of the corner of my eye that my girlfriend had painted her toenails and she was wearing really cute heels which is exactly what I told her that Kody liked women to wear, it really got him off. I stared at her feet and then at her, curious as to whether she had done this on purpose or if it was just a coincidence.
When Kody left the room I made a joke about it and she brushed it off. She didn't seem as if she was doing it on purpose but it was hard to miss the twinkle in her eye and when Kody came back and joined us again she would keep moving her feet around and into his view. That's when I realized she was doing it on purpose, trying to seduce Kody.
He Noticed Her Feet
As the evening went on I kept catching him checking out her feet. Surprisingly, this didn't bother me, because they looked hot and I guessed it was pretty harmless. My girlfriend is a massive flirt and I thought she was just satisfying her own curiosity and making herself feel validated, we have all been there.
I brushed it off as no big deal and the evening went on and nothing else happened…until it did.
I Kept Noticing Her Making An Effort
Each time my girlfriend saw Kody I noticed that she would make an effort with not just her appearance but with her feet, wearing open-toed shoes and making sure her nails and feet were in immaculate condition. I brought it up and she said that it was just harmless fun and she enjoyed a little bit of attention, she explained how it was like flirting without any of the consequences.
I felt a little hurt, but her being horny and wanting sex all the time made me go with it.
One time when we hung out with Kody my girlfriend once asked him to take her shoes off as she rested her legs over him, he did as she asked and she left her feet dangling over him as we all drank and enjoyed the sunshine. I let it be, it was harmless and that was all that my girlfriend ever made him do and although I could tell he enjoyed it I could see why my girlfriend was enjoying the newfound attention.
We All Watched A Movie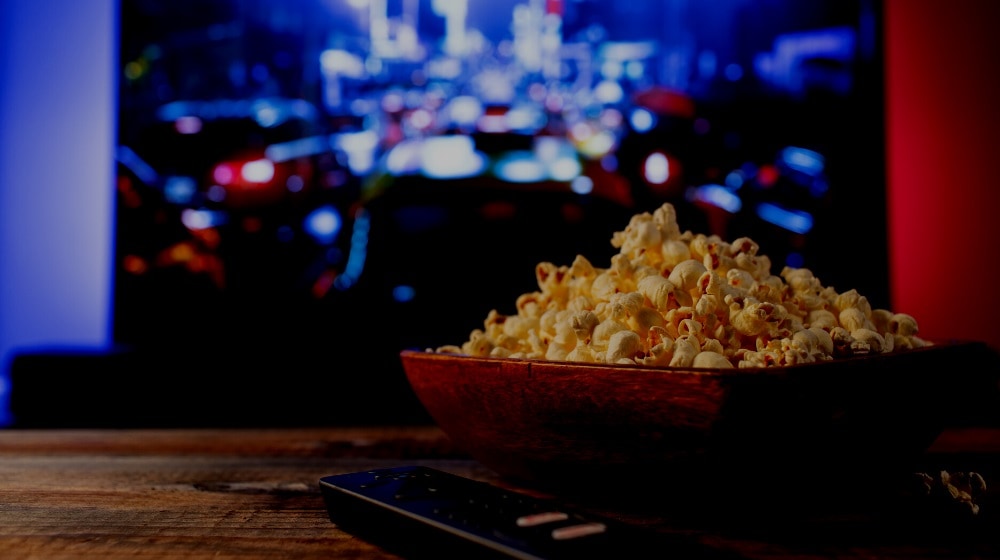 A movie we had all been waiting for came out, we were all meant to come to our place and watch but two friends bailed and so it was just me, my girlfriend, and Kody scheduled in to watch it. We were excited having waited months for its release and we were all in great spirits, I had almost forgotten about my girlfriend's strange antics the past few weeks.
When Kody arrived, he sat one end of the sofa, my girlfriend and I on the other. We put a blanket over us and a few minutes into the movie my girlfriend asked if she could lay down so so her head was on my lap and her socked feet were over his legs.
A little weird if I didn't know about his foot thing, but ultra weird knowing. I didn't say anything and let her do it and when I looked at Kody's face I could tell he was concentrating a little too hard on the movie. I didn't say anything and just let it be, getting comfy and eating the popcorn that was laid out.
I Could See Her Moving Her Foot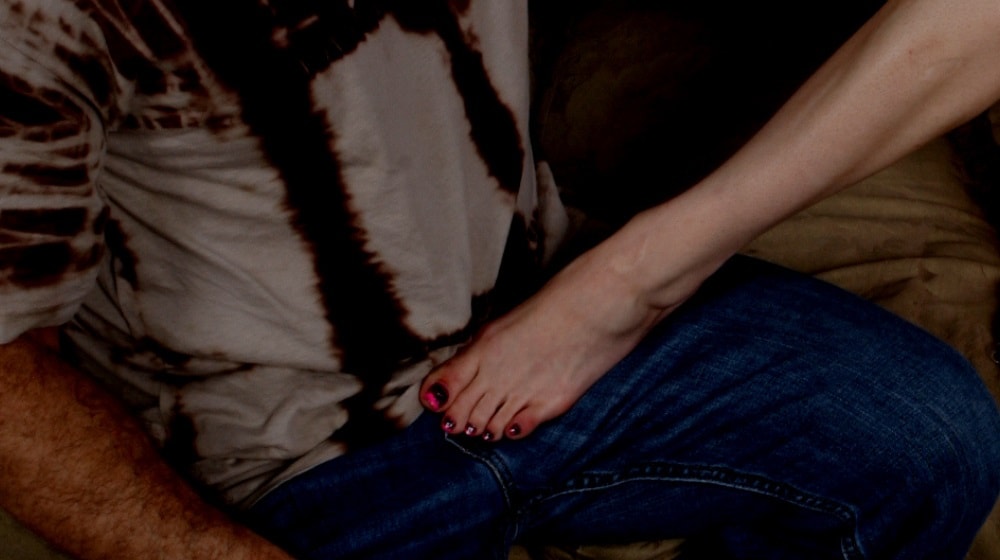 The lights were off and we were all transfixed on the screen, only muttering observations or laughs at the right bits when suddenly out of the corner of my eye, I could see the blanket where her foot and his crotch is was moving slightly. I tried not to look too obvious as I glanced down at what was going on and as I looked at Kody's face I could see he was red, his veins in his neck tight.
She was getting him off, I could tell. She was doing it so slowly and extremely subtly but from the glare of the TV I could see exactly what was happening under that blanket and I froze.
She took her socks off and a few minutes later the blanket started moving again. I didn't want to say anything just in case I had gotten it all wrong, my girlfriend was still seemingly watching the movie, laughing at the right moments and gasping whenever something happened but Kody was different, his mind seemed to be elsewhere and even though it was dark I could have sworn I saw his eyes close and his mouth open.
I watched as he subtly put one hand under the blanket and onto her bare feet, I think, I couldn't really see, I just knew that something was going on and I figured neither of them was really paying attention to the movie.
The blanket moved and wriggled for the entire time and once the movie was over Kody left and he seemed normal, I didn't say a thing.
We Went Upstairs And Fucked
Kody left and my girlfriend led me upstairs. This was the problem, she was getting off on it, and when we went upstairs she would fuck me hard and as if she had just met me.
This very night I decided to grip her feet and play with them while I fucked her, I swear I did this for a few minutes and she started cumming. I could tell she was getting off on me touching and playing with her feet but I couldn't tell if she was just horny, getting off thinking about Kody or if it was her fetish after all.
Is She The One With A Thing For Feet
I have no idea at this point, I think my girlfriend might have a thing for feet and maybe she connects with him on that, or did she just imagine him playing with her feet while I was fucking her.
I've tried it a few times and it's worked every time since. I'm going to ask her and bring it all up because communication is key and I know that's what I should do. Do you have any advice for me?