I just wanted to say a quick thank you to the beautiful Jess for letting me tell my story on her equally as beautiful blog. xo
If you want more stories like this one that is even naughtier with user submission photos, videos, and gifs, join us in our VIP area.
---
I have been sat for ages trying to think of an eye-popping, gripping title for my sex experience giving ass jobs but truth be told I couldn't think of anything more truthful and simple than the actual truth, I love giving Assjobs and although I am still fairly new to them, it's my new favorite thing to do for a guy and it has always made the guy I'm with moan with joy.
What Is An AssJob?
Just in case you don't know and you have stumbled across this article, a quick breakdown is that an Assjob or also sometimes called a 'Buttjob' is where a guy slides his cock between your butt cheeks and you essentially jerk him off with your butt without any actual penetration.
My Favorite Assjob Experience
It was with my ex and although he's my ex I look back on this buttjob (Assjob) with fondness and I would be lying if I said it didn't make me even a little bit horny thinking about it. I would also be lying if I said that I didn't think about it when doing it with other guys and I would love to re-live it all again with him. There was something so special about that first time I did it with him and his cock was just the perfect size to squeeze between my ass cheeks.
It all started one evening, I got home from work and he was sat on the couch on his phone with the TV playing some American reality tv show. I showered and came downstairs in just an old oversized t-shirt of his and some panties, he opened a bottle of wine for us both, we chinked glasses and I sat down on the couch with him snuggling, we put on a show we had been binge-watching and settled down for the night.
It had been a week or so since we had last had sex, I was feeling quite frisky and so was he, I began gently rubbing his cock through his sweatpants, he was almost instantly hard. He was rubbing my back as I gently stroked his now erect cock through the material. He pulled me up to kiss him and before I knew it I was in his lap making out with him, his cock was rock hard and digging into my pussy through my panties.
I was so turned on, ready to rip his clothes off and fuck him right there on the couch. Unfortunately, he stopped me, he pulled his face away from kissing me and gently grabbed my arms, he told me he had something he wanted to try, he had seen it online and wondered what it would feel like. I was up to try anything, he explained what an Assjob was to me and although I had never done anything like it before nor did I really know what to do, I was sold and we hurried up to our bedroom. I thought it wasn't going to be as enjoyable as it actually was but I was excited to try something new.
Naked And In The Bedroom…
I quickly took my clothes off and lay on my front naked on our bed, my boyfriend opened up a box and began to pour some massage oil all over my body and began rubbing it in, it felt great against my cool skin and having his hands all over me was turning me on even more.
He rubbed it all over my ass cheeks and gently ran his fingers all over my hairless pussy. I lay there enjoying the sensations, being teased by his fingers before he poured a little lube into my ass crack (this was the lube he used), the cool liquid made me yelp a little and then giggle. He rubbed the cool lube into my ass, a finger pushing into my ass, teasing me even before he removed it and lowered himself onto me.
I felt his throbbing cock steadying itself between my ass cheeks and I smiled, I wanted him to love this. I began slowly moving my ass, slowly jerking him off, he pushed my ass cheeks together and began moving them faster up and down his cock. He gently slapped my ass as he got faster and faster, encompassing his cock between my ass cheeks and moaning loudly. He then removed his hands and I jiggled my ass over his cock that was still nestled between my two ass cheeks but I was doing all of the work as he groaned and rubbed my ass cheeks together. I bounced my ass so that my ass cheeks were rubbing against his cock.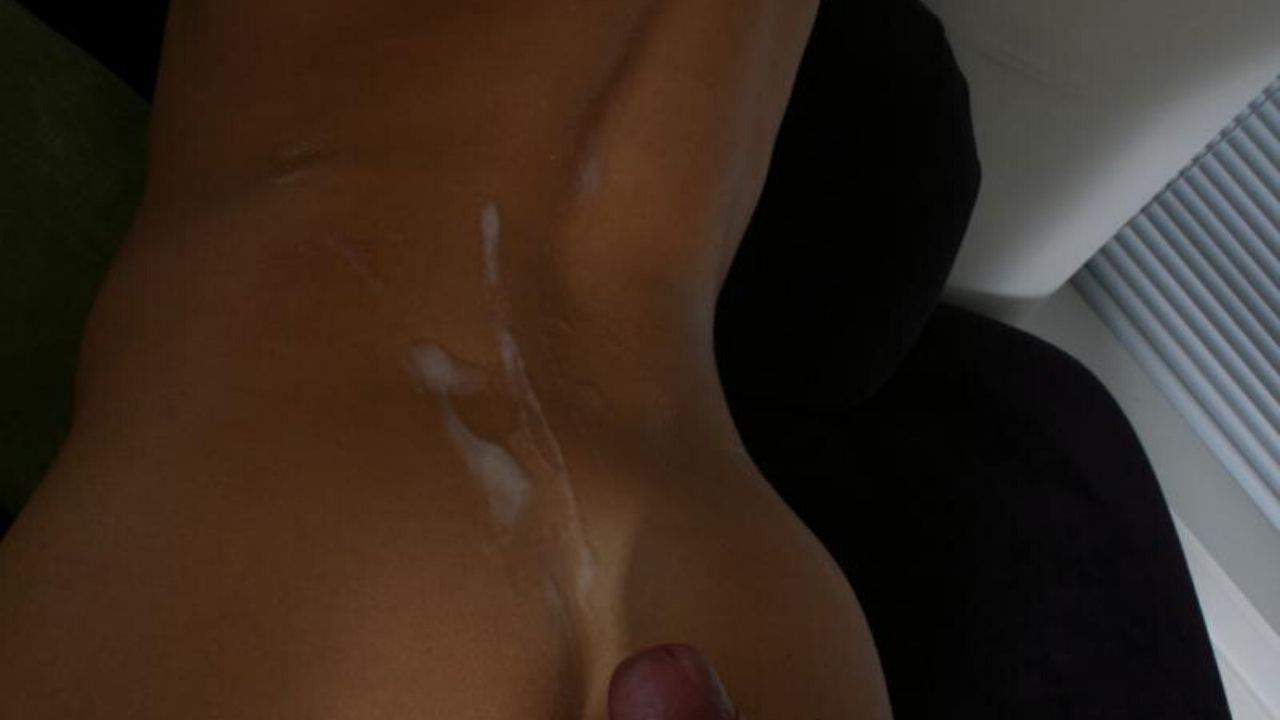 It felt great for me knowing he was so turned on, he gripped my ass cheeks tight then, squeezing them tightly together, penetrating my crack faster and faster before he began to cum and pour his sweet warm jizz all over my back, it slowly dripped down and into my ass crack. He collapsed down next to me and we decided to do this a lot more often.
Sliding His Cock Into My Ass
The next time we did it was even more of a thrill, he lubed up my ass crack again with massage oil and then some water-based lube, it felt just as fantastic as before. He got to work sliding his cock between my ass cheeks, squeezing them tightly together, I leaned around and grabbed his cock and began teasing it into my ass, slowly I pushed the tip inside and then began thrusting slightly before removing it and nestling his cock once again between my ass cheeks, it drove him wild doing this and it wasn't long before he came hard again.
Why I Love Giving Assjobs
I just love the sensation and I know the guys I am with love it too. It doesn't matter if their cock is small or big, it always feels good for them and I love it too. I love being oiled and lubed and feeling their erect cock sliding between my soft ass cheeks.
I have found with some experience that sliding their cock into my ass mid-way is also a sure way to make sure they cum hard and I do it often. Teasing their cock into my ass and then out again, using my ass cheeks to jerk them off and then sliding their cock back into me is one of my favorite things to do and thanks to the lube I use it's really easy as it's so slippery down there.