I'm back! since I posted my last story I have been on a whirlwind journey and it's really helped me accept myself, my body, and what I like in the bedroom. All of the comments and messages with your encouragement and advice really helped and I'm excited to share the follow-on to my first story here.
When you last heard from me I was complaining about not being able to find guys who know what they are doing when it comes to fisting, I was scaring them off, and only daring to ask one-night stands because I wouldn't have to see them again. I used sex toys to satisfy my cravings in the meantime and tried to find men who knew how to pleasure me without offending them with my love of size and I am very excited to tell you that I found Mr .'definitely knows how to fist and loves it'.
I Found An Experienced Guy
I was lost the last time I shared my story, I couldn't find a guy who got it, especially not without a whole bunch of hang-ups or weird ideas about fisting.
It took a while, but I found a guy who is a year younger than me, but somehow was experienced enough to listen to my body and know what I wanted without me guiding him. When we first hooked up it was the same vibe as the guy who unlocked me, he was confident and just wanted to please me and I think I might have known that very moment that he was going to be just fine with my love of being full.
On our first night, he went down on me, he opened me up, he owned my pussy, and afterward, I am a little ashamed to admit that I was even a little clingy because it's so hard to find someone who is cool and a good lay!
It wasn't just that, he was also really hung, at this point, I was inexperienced with size like he has, it turns out the reason he was so good at warming my pussy up and then fisting me, was because he usually has to do this to every woman he sleeps with just to fit himself inside (not the fisting but the pussy warm-up and stretching). He got my vibes, he understood my body and he didn't even have to ask if I wanted his fist in me, he just knew.
After he fisted me, had me squirting, and he got me off so hard, he went inside me and I didn't even know he had a big cock before this because I had only felt it through his jeans but, oh boy did I know it when he pushed his cock inside me, it was a mix of 'is that his fist again?' and 'When will he run out of length?', it just kept going deeper and deeper, it felt as if I was even more stretched out than when his fist was in me, I think it might have been because it was going deeper than a hand can.
Having a big cock was definitely a new kink unlocked for me and although it doesn't feel the same as a fist, the size and stretch got me off so well and I loved it.
Once He Was Done, I Was Gaping
That same night he had my pussy gaping, he was pulling his fist out of me and I was left with the same size hole as his cock. It was tremendous and he even showed me my pulsating gaping hole in the mirror which was seriously sexy. I don't usually cum through penetration alone, but something out of the ordinary happened, I was so turned on and in the zone, he had me cumming with his cock, it was amazing. That night I knew I didn't want to let this man go, he was made for my body and he knew how to use every skill in the book on me.
Toys Are Good But Nothing Beats The Real Thing
I find that my pussy is tighter with toys than with the real thing and that goes for both cock and fists. I find my pussy just opens up and takes everything when it's the real thing, whereas anything fake takes a lot of warming up and practice for me to take.
That's why I didn't know if a cock would do the same because I'd only tried big dildos and they feel pretty epic, but nothing like the real big meaty cock. I genuinely think I could take any size when it comes to cock or fists, but I seem to bottom out around 9/10 inches with dildos.
He Opened Me Up Even More
When your size playing there's a lot of 'holy fuck' moments and luckily for me, after that first night, it didn't stop there. We met up so many times and he encouraged me to go deeper, to take more, and he was so enthusiastic which was a huge turn-on for me to find someone who was as eager as I was.
Even the first time he got his fist inside me he was telling me how good I was and I could tell he was just as turned on as I was. We've been experimenting with everything, toys, his cock, positions and he has opened up my world and made me lose the last shame I felt for this kink, as he told me it's normal and lots of the women he has been with love it, especially once they are relaxed and warmed up.
We've tried anal fisting, but my butt is too tight and I think I need a lot of practice and a heck of a lot more confidence before I really explore my butt, especially with a cock his size or a fist as experienced as his.
How Deep Have We Gone?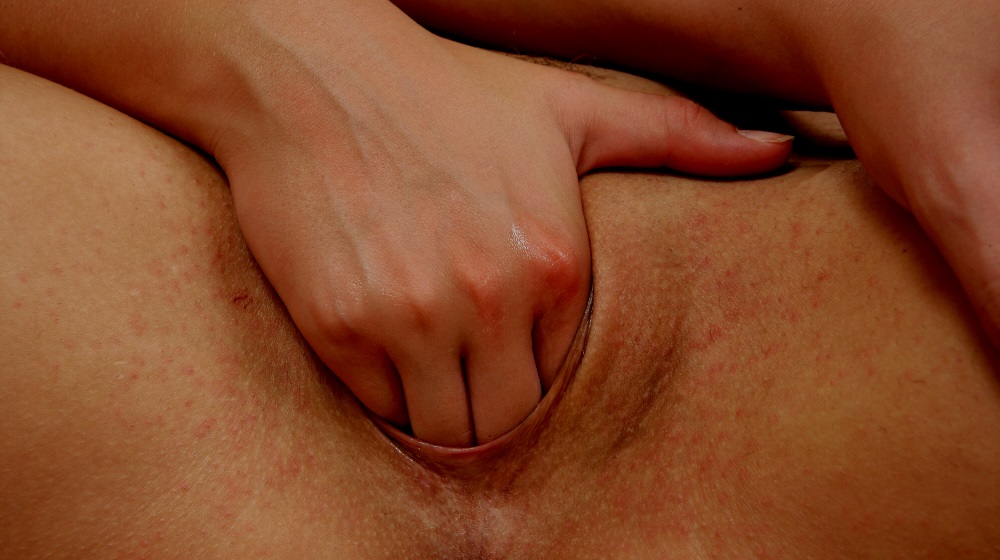 I have had his cock and a smaller, skinny dildo inside my pussy at the same time, that felt unreal, it was hard to get it in and do the positioning, but once we got the hang of it, it was breathtaking for me. We are making our way up to trying a large dildo and his cock at the same time but we have to stretch my pussy a little more before we try that.
As for everything else I can take his cock and his fist without any issues (not at the same time!) and every time he fists me it just seems to feel better than the last. I don't know if that's normal but it has certainly been my experience.
He Knows How To Talk To Me
Dirty talk has become a part of my kink, he loves talking dirty and when he started doing it, I was utterly under his smooth-talking spell. He talks to me, tells me to relax, makes me beg for him, tells me when to cum, and won't let me cum unless it's when I'm fully ready, he shows me how gaped and how stretched open I am. He also uses degrading words and sentences which I really get off on.
He did this thing the other day where he made me open my hole wide using my fingers for his cock and then kept my fingers inside me stretching myself while his cock was inside me.
This is the kind of shit that will make me marry this guy, he is hubby material. We have only been exclusive for a few weeks but he is perfect in and out of the bedroom.
Cock Vs Hand?
I'm not sure many cocks are built like the guy I'm with. I would have said fist before I met him and in terms of orgasm, there's nothing hotter than a guy eating me out while he uses his fingers then fist, nothing beats it, but when he is deep inside me, pushing every inch in, I feel more connected, it's like he is so deep he is a part of me.
For pleasure and the feeling of fullness, I am going to pick the fist but for connection and depth, I am going to choose my man's cock. I may change my mind as time goes on but for now, that's certainly my preference.
Am I Still Just As Tight
I'm not sure why, but for some reason, it hasn't affected my tightness. I spring right back after the session, I think sometimes I get a little swollen and it actually makes me tighter straight after, but then a day later I'm back to normal.
I would say that I do, do Kegels after, just to get everything back and it's important to have full control of your bladder, etc, plus it makes fisting more enjoyable having a stronger muscle down there. I think fisting leaving you 'loose' is a serious misconception, the vagina is made to be stretched, and whilst mine can now accommodate bigger things quicker, it doesn't mean I am any less tight when using small toys or cocks.
I Like The Way It Feels After
Don't even get me started on the afters effects of fisting, I love it. I can barely walk and I'm usually left sore and hurting after he is done with me. But, he always runs me a nice candle-lit bath and gets me something cool or hot to press against my pussy if I need it, he is so great, and aftercare is so important.
I have always liked the sensation after being fisted but now I have my boyfriend it reminds me of what we did and keeps me nice and horny.