You guys should be careful who you put your unprotected cock inside. You may think it's all good fun and women like me don't exist but we do and I get so horny that I want you to fuck me, I want you to cum inside of me and I want to be impregnated by you.
If I feel like you're good enough to fuck me, that usually means I want your seed deep inside of me, filling up my womb just how I like it. I don't care if you're a stranger, I just want your cum. That's why I only fuck guys I am deeply attracted to, this means I don't fuck too many guys and I wait for the right one. But, once I find the right one, it's game on and I want as much cum as I can get.
This story is about the last one-night stand I had and how he became my breeding partner.
The Cravings Had Been Getting Worse
Since clubs and bars closed for what felt like years and not being able to hook up as easily as I had been before the world shut down I started craving sex like never before. I was an animal for it, desperate to be fucked, daydreaming about it all the time, and my mind wandering constantly to different scenarios and fantasies. I was constantly turned on and wet and no amount of masturbation helped, I wanted the real thing.
It was all I could think about, my mind was plagued with the desire to have sex, and with each day that passed it got worse and worse and all I could dream about was freedom and that first fuck after so long away from the male population.
Being Able To Go Out Again
Finally, after months and months of waiting, the time had finally come where I could go out with my friends and we could go to a bar and socialize with other people. We were all on top of the world at the prospect of it and I even arrived early for once in excitement.
My friends, we are all the same, all as horny and as flirty as the other, at least the ones who are single are. We all wanted to just let our hair down and get some good dick. That wasn't much to ask, was it?
We went on a night out and when I say we looked good, we all made 100% effort and dressed to impress. We were ready for anything the night was going to bring and we all felt a million dollars hitting the bars that night.
We Got Talking To These Guys
We were in a fancy bar and saw a group of cute guys standing close by, we invited them to our table and we started talking, these were the first guys I had spoken to in months, I had been starved of the male population and sitting there talking and flirting with them and all of my inhibitions melted away. I already knew what I wanted to happen and so did my body.
It wasn't long before me and one of the cute guys were seriously flirting, touching each other up, and making out. One of my other friends was with his friend but I was so blind-sighted by the kissing and touching that I just sort of forgot where we were and about everyone else at that table. He was as turned on as me, he told me that this was his first time being out since everything too and we just couldn't keep our hands off of one another.
We stayed out with our friends for a few hours, but all I could think about was getting him in bed and fucking his brains out.
I Just Wanted To Feel A Cock Inside Of Me
He asked me if I'd like to go back to his, it was about 50 minutes away and I just couldn't wait that long to feel him inside of me. On a whim, I asked him if he wanted to get a hotel room with me and he agreed, eagerly.
I was about to blow his mind and he had no idea. We go to the hotel room and we were flirting like teenagers, making out, undressing each other and to be honest I was a little nervous, it had been ages since I had gotten naked with a guy and had anyone see my body but as soon as I felt that heat between us and the soft tongue circling around my nipples, my worries melted away.
The Problem
When you take a guy home you never know what his downstairs will be like, especially when you're this horny, I just wanted someone with a bit of a package. I didn't care if he was ultra hung or thick, I just needed a nice, clean and decent cock.
I was worried but I eventually pulled down his trousers and he had a lovely cock, I sighed a sigh of relief and put him straight into my mouth. It felt so good to have his soft, hard cock in my mouth, god it had been so long! I had dreamt of this moment for months and finally, it was here and it was better than I had even remembered.
I forgot that he hadn't been with anyone in so long either and he began groaning and urging me to stop, he didn't want to cum and the head I was giving him was out of this world. He then without hesitation went down on me. He licked, sucked, and kissed my clit while he had his fingers inside of me and it felt incredible, I made so much noise and just let myself go as he buried himself into my pussy and I came within in minutes.
I couldn't wait any longer, I needed him inside me.
Put That Cock In Me Right Now!
I practically shouted at him, begging him to put his cock inside of me. He went to get a condom and I pulled him back. I started rubbing his cock on the outside of my wet pussy, urging him to just enter me, his raw cock slipping easily inside of my wet pussy.
He asked if I was on the pill, I said "does it matter if I am?" and with that, he slowly pushed and thrust his cock into me. It was that easy, he was willing to impregnate my very fertile pussy without a second thought. We both moaned loudly, our bodies doing exactly what their primal desires wanted and needed, the room was electric with sexual energy, cock had never felt so good.
Please, Fill Me Up
It was just what I needed and it wasn't long before he was about to cum.
As he was near to his orgasm, he was thrusting slower, I started whispering to him 'cum in me' 'I want you to impregnate me', 'just cum in my pussy' it's so funny, but these words are so powerful and make any guy I've been with cum on the spot. He tried to ignore me but his cock would pulsate every time I said it and I knew he was on the edge and unable to continue without blowing his neglected load inside of a nice warm hole.
I Wrapped My Legs Tightly Around Him
As he began to cum in my pussy I squeezed him so tight with my legs that he couldn't pull out, I locked him in by the waist andhHe came so hard, he moaned, groaned and I could feel his cock pulsing as he finished inside me, his load deep in my womb.
He lay breathless on top of me, his cum dripping out of my pussy. We were both silent, our first time fucking anyone in months and months and it felt so good.
We both just lay there for some time until we started talking, flirting, and kissing again. I asked him if he would put his cum in me for a second time, I asked him if he would impregnate me? and without thinking he was back inside of me, as hard as he was the first time, his cock ready to impress and cum again.
It Was My Time To Ride Him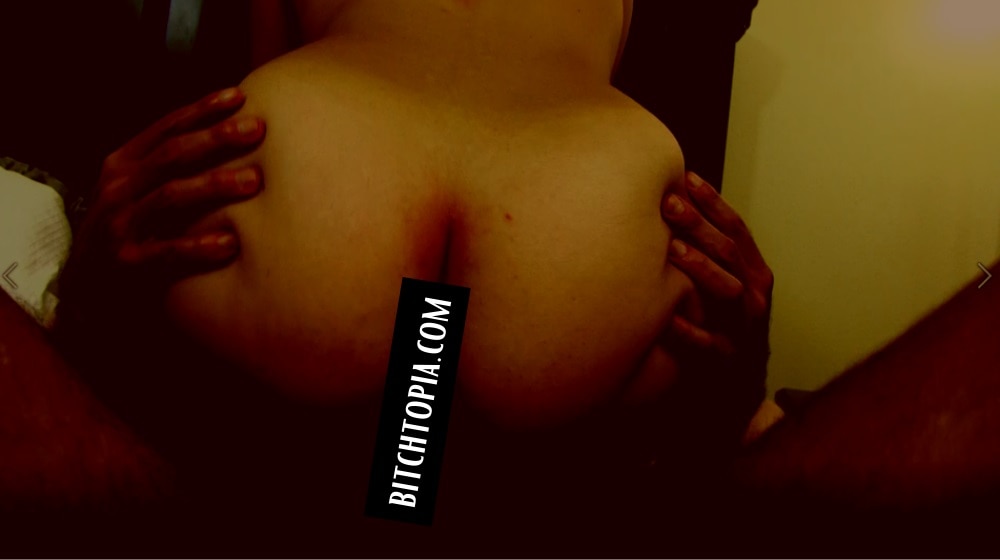 This time I got on top and I began riding him, it felt amazing to be back on top of a cock like this. I rode him hard, using everything I had and as I bounced up and down on his hard cock I told him that I wouldn't let him pull out. It was like he was as turned on by this as me, he groaned when I said it and I could tell he was close to cumming again so quickly. I guessed I had unlocked an impregnation kink for him.
I gripped my thighs around his body, pushed his hands back behind his head, and said…
I Want You To Make Me Pregnant
I kept him deep inside of me and his cock as I mentioned wasn't small, it was pretty long, so I knew he would be cumming deep and after a few seconds he pretended to struggle and suddenly let out another huge load inside of me and I thanked him as he came, thanked him for filling me up and for getting me pregnant.
We rested again, my pussy was swollen and sensitive from so much fucking but I was ready to go again.
We fucked another time, this time I wanted to taste what had been going inside me, taste him to see if he was good enough and he was, his load trickled down my throat and I tasted every last bit and he also went down on me again, tasting himself and my cum as he came hard for the second time that night.
I Kept His Number
It didn't stop there, I got his number, we started texting and now he is my breeding partner, we're not together, so I've been seeing a few other guys, but he is special to me and we always make time to have sex and fill me with his seed whenever we get the chance. He loves seeing my pussy all filled up with cum and he admitted that I did in fact unveil a breeding kink within him, we both really get each other in the bedroom, and although it's great fun and super hot, I want any guy reading this to always be careful of girls like me…