I probably shouldn't be sharing this but I can't keep it to myself a moment longer and this felt like the perfect place to put my truth out there.
I don't know where to begin so to give you a quick insight into myself, I am bisexual, although I didn't always know this. I found out whilst in a relationship with my long-term boyfriend of 7 years. When I found out I was in inner conflict, he gave me a pass to explore myself with other women if I needed to. I took advantage of his blessing and I truly discovered who I was and what my sexuality meant to me.
After a few months, I gave my boyfriend the same pass, it wasn't fair that I was out having fun with different women and he wasn't. I guess that's called being in a polyamorous relationship and it's worked really well, he only does lovey stuff with me, he tells me everything, and I do the same to him. We both get what we need and are having fun whilst doing it.
It Worked So Well – Until I Fell In Love
After one year of enjoying a polyamorous relationship, something happened. I found out that you can deeply love two people at once. I was head over heels in love with my long-term boyfriend and my girlfriend.
What happened is that I met a girl, let's call her Mia, I liked her a lot and actually introduced my boyfriend, let's call him Will, to her. We all got along really well. I broke rules for her, we hung out with Will's permission and she would come over and hang out at our house, which was one of the rules I broke with her. This is where it went from just having sex with other people to me actually dating and falling for her.
After a year I realized I was in too deep and I loved both of these people implicitly, something I didn't think was possible before this.
I Brought My Two Favorite People Together
Mia was everything to me and so was Will and so bit by bit I got her closer to Will and luckily for me, it worked. We began a three-way relationship, all three of us were in love, horny, and 100% into polyamory.
She liked women in the bedroom a bit more than she liked men, but she and Will got on really well and Mia thought he was hot. One night I gave my boyfriend a blowjob with her in the room, and they both started sharing me with each other, it was really hot and it was actually unexpected. I love them both but I didn't expect to have them both in bed with me.
This Turned Into Threesomes
They would share me between themselves and eventually one thing led to another and we did have sex together, this was my first ever threesome and was and still is one of the hottest moments of my life so far.
Seeing them both playing together, then us all touching one another and having Will go between fucking me and then Mia, making me crave him back inside of me again, was incredible. The foreplay was out of this world and the dynamic between us three in the bedroom was like something out of a porno.
None of us could get enough of it and we always found ourselves in the bedroom, fucking and having fun, not caring about the labels on us or social norms.
We Started A Threeway Relationship
After having such great sex together we decided to start a three-way relationship, living our polyamorous life to the fullest. My boyfriend and I had always been with other people, never bringing them to one another, this was all new to us.
You may be asking did it get more complicated? Well, the answer is no, and yes.
No, because we stopped playing with other people and we all decided to play with just each other. Starting a three-way relationship was exciting and filled with so many firsts as well as learning curves.
All poly activities stopped and loyalty between us three in the bedroom became a real thing, that was awesome, so, that was less complicated, but what was more complicated is that I was more jealous that Mia and Will, my two best friends were becoming better friends than they were with me.
That was hard to deal with.
However, after a few arguments and late-night talks and a lot of those emotions were gone and I was able to deal with those feelings that were arising within me.
Ups And Downs Over A Year
A lot can happen over a year and for us three there were certainly lots of ups and downs, dynamics we needed to iron out, and if you think rifts in a relationship with just two people were hard, try three! It can be a minefield but for all the tough days there were hundreds of amazing ones and we flourished as a throuple, the sex was incredible, nobody was ever lonely and we always had the best quality time together, all falling in love with each other more and more each day.
She Wanted A To Start A Family
A year in and Mia, our girlfriend, wanted to start a family. We knew we would all be good parents, it's also a modern and ever-changing world, and having three parents isn't that drastic nowadays.
When Mia brought it up we all considered it, we all have good jobs, we are all in our thirties, and Will and I have always wanted kids, it was just never the right time and after some deliberation, we figured there would never be a right time if we didn't just try.
We talked endlessly about the cute aspects of being pregnant and having kids, the endless playdates, and of course, we all got carried away with how hot we would look pregnant and how great it would be to have sex.
He Got Her Pregnant First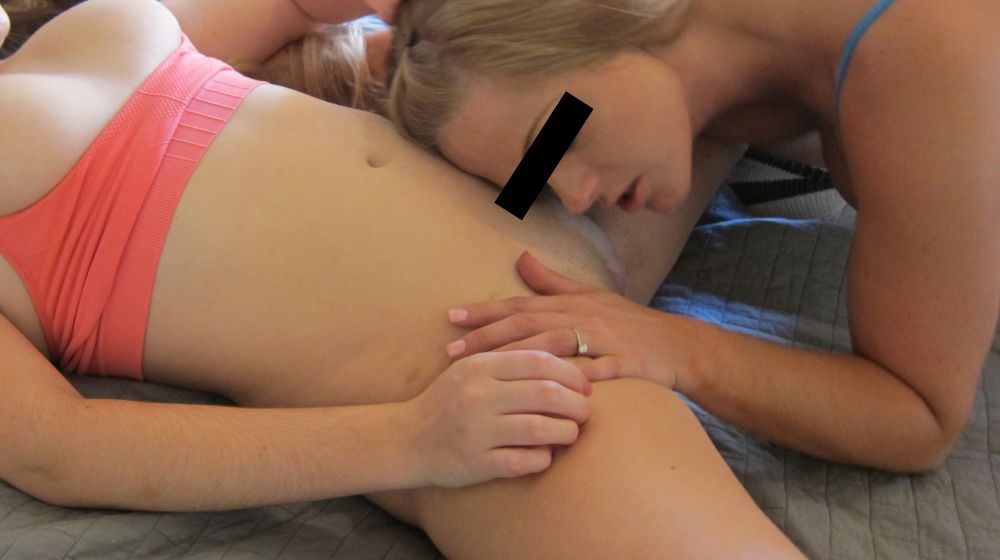 We didn't plan on who would get pregnant first, we just had lots of sex and hoped for the best. Will got run ragged, we were draining his balls dry, and if he came inside Mia he would then have to cum inside me, we wanted him all of the time and in equal shares.
We did try and spread out his loads a little bit so that we didn't get pregnant on the same day but incredibly within three weeks she was pregnant, we were astounded and so excited for this new chapter.
I Got Pregnant Shortly After

I will admit, I was a tiny bit jealous that I wasn't pregnant at exactly the same time, it took me around 3 months before I finally fell pregnant but it did only feel like a few weeks had passed because so much was happening at once.
I loved having Will cumming inside me so much with carefree abandon and a desire to fertilize my eggs and deposit a load inside of my womb. It was so hot and all three of us were so horny for the entire process, it was incredible.
Pregnancy Sex and Emotions Of Two Pregnant Women
Poor Will, we were both really horny during our pregnancy, so he was used up daily, we would beg for his cock and his cum, it was crazy. He also had to deal with the emotions of two very intense women, we were up and down all the time but we did help each other out and understood what the other was going through.
I don't know how women do it completely alone, it was so nice to have one of my best friends and lovers going through it too. The bond we all got from being pregnant together and having our children a few months apart was so intense and made our weird little throuple relationship even more solidified.
This story was originally shared in the private membership, but with permission, we decided to release it publicly. We will be posting an update in the membership if that's something you want, we wanted to share insight into what happened a few months after this and even a year after. There we can answer all of the fun questions about sex, bedroom arrangements, jealousy, explaining to family members, and all that juicy stuff.
Let us know any questions you may have and we will be sure to answer everything in the membership so we can more open and intimate with you all.