Reading this back, I almost didn't send this to Jess to be submitted because I can see how bad I look, but after some contemplation, I realise that I wouldn't change a thing about what happened or what I did.
I'll preface this by saying like a dumb twenty-something-year-old I fell for an older guy. We have all heard the story before. A young, naive girl falls for an older attractive man, often completely fooling herself about the entire situation.
You see, before you judge me, you need to know that I didn't actively seek out an older guy. I had always dated at my age range but after my last few boyfriends had completely made me lose trust in them and their immature behavior, I was done with man-child guys who show respect until they are with their buddies and will give you their time until they have to choose between you and going out for days on end drinking and partying.
I decided to give up on men for a while. I just started using them for hookups, I wouldn't get to know them, just get the best bits of them and cut it off before I could see the real them. It worked for me but, it did get a little lonely at times.
This Sucked Because I Want a Family
Just using men for sex, did get hard, not just because of the loneliness but, because ultimately I wanted to start a family, and I want to settle down, I love partying and having fun with my friends, but it has gotten old and I really don't want to be strung along by some young prick. I want romance and love, a big family, and a long and happy marriage.
I didn't think it was ever going to happen, not with the type of men I was surrounded by anyway, and at this point, I had given up.
You see, I wasn't seeking anyone out, young or old, that was until…
He Joined My Division At Work
My heart skipped a beat when he first talked to me. I wasn't expecting it, his dark eyes and salt and pepper-colored hair worked flawlessly for him, they made me swoon in a way I had never experienced with any guys my age before.
Not only was he handsome, but he was also extremely hot, confident, and fun.
We worked together on private projects, and we had so much synergy. We were praised for our results by our peers who congratulated us on working so well as a team but what they didn't see was the fuck load of sexual tension between us.
I'd breathe in his manly, musky smell every time he walked past and my mouth would water, and my belly would do flips. I was so attracted to him that my entire being was sizzling when I was around him and I couldn't satisfy myself.
NO AMOUNT OF MASTURBATION WOULD HELP ME
When I would get home from work I would finger myself into a frenzy every single night just daydreaming about him.
Eventually, I came so much that nothing was hitting the spot.
I couldn't escape the thoughts of him, I wanted him badly, my body was ravenous and I wanted to make a move on this irresistible, older gentleman but then…
It Turned Out He Had A Wife
I had had enough, I was soaking through my panties every day we worked together. I would rest my hand on his leg, I'd give him massages in his chair, I'd hug him to say bye and we texted every day.
I wanted him to make a move on me so fucking bad. I wanted my clothes torn from my body and to be ravished by him.
One day, filled with sexual frustration and instinct, I just went for it.
I asked him for some help with something in a private room and I kissed him passionately and he didn't stop me. His hands roamed my body, squeezing my ass with desperation, our tongues dancing together.
My heart was racing, I was trembling with how much I wanted him. I was literally dribbling while he kissed me. My pussy throbbed with desire, I went to squeeze his cock through his pants and…
Then he stopped me!!!
NOOOOO, why, why whyyyy! Whyyyyy!
I wanted it to be anything but rejection. He pulled away from me, yet still, he held me tight as he looked into my eyes and he said:
I'm sorry but I have… a wife.
I would have rathered it be rejection than that. He was married and I could see why, he was such a catch, to ladies of any age. I shook my head, I was still so aroused, I couldn't believe it, I was crushed.
Are All The Good Guys Taken?
I honestly feel like all the good guys are taken. I had no idea he was married and it all makes sense, who wouldn't want to be with such a fun, sexy and clever guy?
At this point, I went home and cried to my friend. I told her that every single good guy already has a wife.
I hadn't felt this way about a man before and he was perfect. A mixture of sexual frustration and a desire to be loved overwhelmed me, I sobbed and I almost didn't hear my phone notification going off.
Bling.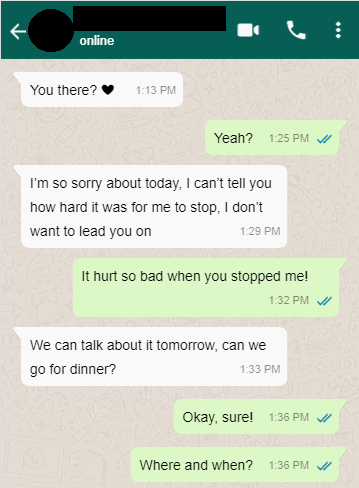 A text came through.
It was him.
My heart skipped about ten beats.
Him: "You there? ❤️"
Me: Yeah?
Him: "I'm so sorry about today, I can't tell you how hard it was for me to stop, I don't want to lead you on"
Me: "It hurt so bad when you stopped me!"
Him: "We can talk about it tomorrow, can we go for dinner?"
I was so confused but I accepted, I wanted him so bad and I could use an excuse to get all dressed up and go somewhere nice, even if the guy was erect but unavailable and married. My friend told me not to go, she told me it would only end in tears and heartache but I was horny and intrigued about what he had to say to me over dinner.
You Can Bet I Looked Incredible For The Dinner 🔥
I woke up with butterflies in my stomach, I had a feeling something good was going to come out of this and even if it didn't, I wanted to imprint myself upon his mind. I got ready and I wore my "come fuck me over this counter" outfit, and had my friend help me make sure I looked my best.
I wasn't really sure what this dinner would be about, but dinner was better than coffee and I wanted to be more than friends.
He couldn't take his eyes off me when he saw me, I could see the wheels turning in his mind, he didn't know where to look or how to handle me dressed like that and although he assured me he only had two hours to spare, we got carried away and he opened himself up to me.
He told me that his wife has been neglectful of their sex life for almost six years, he thinks she is cheating on him but he can't prove it. I was shocked to hear this from me but ultimately it made me want him even more.
I've known him for 6 months at this point and with liquid courage I told him that I would wrap my lips around his cock every night if that would make him happy, how is she wasting him like that??
His eyes went wide and I felt my cheeks blushing.
He Asked, "Are You Serious?"
I nodded, of course I was serious, I would please him every single night if I had the chance.
He went quiet for some time, just looking at me longingly, something behind his eyes told me that he wanted to bend me over the table and fuck my brains out but he didn't speak until he explained that he didn't want to ruin and hurt his wife for a bit of fun.
I told him how serious I was, I want a family, I want commitment, but I held back a little, I didn't want to come off too strong. He was clearly in awe, shock and in a state of arousal, I thought it would pick me up and take me to a hotel room, fuck me senselessly for hours but, he didn't.
We Left It There – For Now…
He didn't fuck me.
He didn't come back to mine.
He didn't take me to a hotel.
We did share a kiss though, it was short but it was passionate and filled with longing. He wanted me and I wanted him, I just knew I had to be patient and show him that I was serious and not some one-time fling.
For the next 3 whole months, things heated up.
We shared kisses discreetly at work, we would go out to dinner and I even groped his cock through his pants and was impressed by how hard he was. He told me how much he wanted me and I knew he was desperate, yet I didn't push, I just proved to him how long I was willing to wait, I knew he was married and I knewit was a big risk for him but he was all I could think about.
I would masturbate every night and tell him each day how wet I was for him, I would close my eyes and imagine him between my legs, yearning for the day it finally happens.
Unofficially we started dating, without the sex and it was torture but I was prepared to wait for him, however long it took. Getting wetter and hornier by the day. A small breeze could make me cum and yet I was loyal, biding my time and telling him everything he needed to hear.
I Would Have Your Babies Right Now
He and his wife had not had kids yet, she didn't want them but he desperately did.
One evening, over drinks, I told him I wouldn't wait. I'd have his kids right here and now and I was being serious, I wanted his cum inside of me and I wanted to be with this man forever.
I am completely in love with you, I said, unashamed.
But we haven't had sex yet – he said, his eyes wide, his face shocked and happy all at the same time. He held me tightly and I whispered into this ear:
"We've done everything else and that's the stuff that relationships are actually built on.
I have felt this way since the first day we met, I just want you all to myself"
I told him that he was kidding himself if he didn't think that what we had done so far was cheating. Even though we didn't have sex, we had seen each other every day, we had been on romantic date nights, had long intimate hugs, and endless kisses.
After all that he wanted to see if I was serious, he couldn't believe I would like him so much with our age difference and the fact he was still married.
I took his hand and we went to my place, I told him I wasn't on the pill but he didn't care. We didn't say a word to one another as he sat down on my couch and I finally, slowly unbuttoned his pants and got to see his cock for the first time. I bit my lip hard as I tried to contain myself, my eyes glistening with arousal and happiness.
I took his cock into my hand, it was already erect and I looked up at him, he ran his fingers through my hair and cupped my chin with his hand as I said, "Cum in me, I promise you I am serious and so ready for you".
He didn't hesitate a moment longer, he pulled me up onto his lap and slowly kissed my neck, moving his lips down towards the top of my dress, slowly pulling it down seductively, loosening my bra before squeezing and sucking on my breasts. I practically came from that alone, his tongue licked and treasured every inch of me, my pussy was swollen and soaked by the time he finally put his hands between my legs and began rubbing me through my panties.
I let out sweet moans as he rubbed me, making me shudder with delicious arousal. Neither of us could wait a moment longer as his cock rubbed against my slit and finally after so long of waiting, he pushed himself inside of me, letting out a gasp as he felt my tightness and wetness all at once. I moaned loudly, riding him slowly before building up my speed and slamming myself down, I came quickly, my orgasm almost wiped me out with how intense it was and only a few seconds later, he did the same, painting my womb with his cum, panting and nibbling my ear. It was sensational.
I let him fuck me like that for weeks.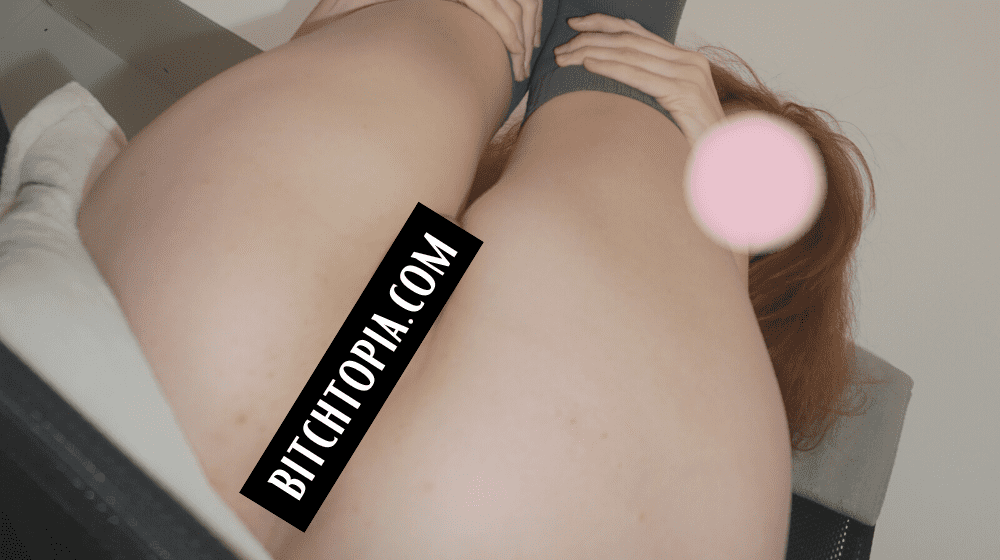 I didn't get pregnant, but I'm ready to be. I want his babies, I want to be bred by this handsome, mature man. After we had sex, he told his wife and he is now living with me.
There's a lot to this story, but that might be for another time. Let me know if you want me to share it in the comments down below.
Did I Still Want Him Once I Got What I Wanted?
FUCK YES!
I heard people say that once the chase is over you will get bored but for me it stayed the same, it's the best, I get him all to myself.
I still smell him on me after he leaves and I could touch myself all day long to his scent alone, he also has an energy and a way about him that I crave fully. I want my family to be built with him and everything about having what I wanted is better than when I was just a sexually frustrated young single girl.
His marriage might have ended, he may have even cheated on his wife with me but it has all been worth it and he has been filling me with his hot and sticky creampies every evening since.